"here" .For older bento posts, just click on the monthly archives at the side bar.
Saturday, October 04, 2008
Hello Kitty Bento
I should call this one time-on-my-hand bento instead of Hello Kitty bento cos the only thing Hello Kitty over there is the moulded rice. Ha Ha!
I have been meaning to utilise the Hello Kitty rice mould sets but in want of time, I usually skip the tool, cos those placing of nori eyes, whiskers and nose takes time. And as you may know, 15 minutes is about all I can spare for the kids bento meals on a normal weekday before getting them ready sending them off to school and getting myself ready for work.
So, without needing to get Kimberly ready for school on Monday and without having to go to work on Monday, I fixed a kawaii bento for Ashley. Ashley still goes to kindergarten during the Raya week although Kimberly has the whole week off school.
Bento #81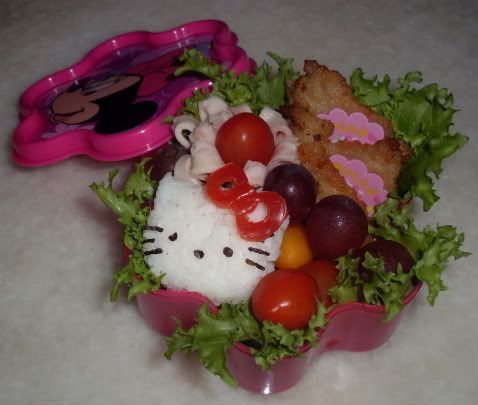 Ashley's Hello Kitty moulded rice has a red pepper ribbon on top of her head. It's more ornamental than anything else. I hardly think she is going to touch that.
On the top are some ginger marinated fried chicken strips. I love these ginger marinated ones. It's a favourite with the kids and hubby too.
I cut the chicken into thin strips, marinated in loads and loads of ginger mince and ginger juice and some soy sauce. Leaves overnight but I usually leave them frozen with cornflour coating. Whenever I need any, I took a few strips out and deep fry them in a wok.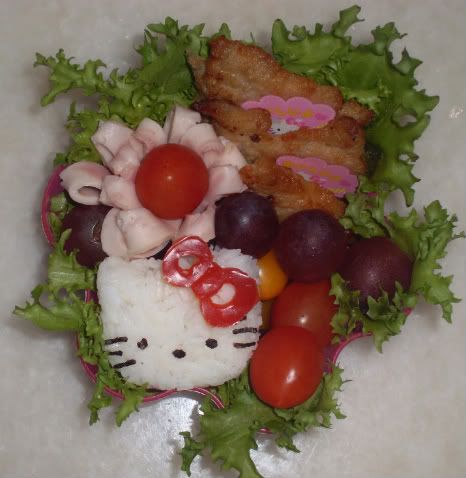 As usual, the bento meal sits on a bed of lettuce leaves if there's some in the fridge. It's because we do a lot of lettuces at home and there's always some in the fridge. My kids like to wrap their fried rice around lettuce leaves so MIL tend to buy these a lot.
I thought these coral leaves are so pretty and got these for a change. While Kimberly munches on hers, Ashley pulled a funny face and abandon hers. So will probably just get these for hubby's bento only in the future.
On top of the moulded rice is a ham flower. Been meaning to do this for months, ever since I spotted them on some cool Japanese mom's blogs. But not having bought ham for sometime, have been delaying them till now.
On the side of the Hello Kitty moulded rice are loads and loads of grapes, and 2 yellow cherry tomatoes and 2 red cherry tomatoes.
So, this is Ashley's Monday's bento meal.
Happy Bento-ing, folks, and drive safely travelling back to KL after the Raya holidays!!
Labels: Bento

---