"here" .For older bento posts, just click on the monthly archives at the side bar.
Wednesday, October 08, 2008
Smudgey Hello Kitty bento !
This is today's bento. Pardon my untidy handiwork.
Knowing that I may not make it in time for Kimberly's bento, I shouldn't have attempted this. But Kimberly has requested for a Hello Kitty face like Ashley's lunchbox. So I thought if I could have the nori face punched out and laid out the night before, I may just about keep in time. Unfortunately the nori pieces were not as neatly cut out as before. But I failed to observe that yesterday.
Anyhow, here's a smudgey faced kitty bento!
Bento #83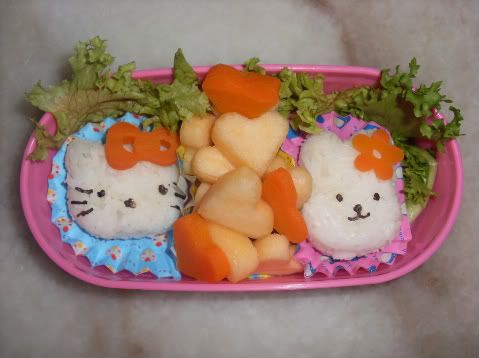 Kimberly is having pork chops for her school's lunch today. So may as well get her more carbo on her bento meal today. Kimberly has a Hello Kitty moulded rice and her bunny companion moulded rice, both with a carrot ribbon. Between the 2 moulded rice are some honeydew melon cut outs in heart shape, and some steamed carrot cut out in heart shapes.
Since this is a 2 tier bento box, I gave her some heart shaped cheese sandwich for laters, if she wants them.
The white bread are store bought and the inner whole meal bread are home made. Kimberly's classmate's mom, Sue, helped me got these multi size heart shape cutters from the Daiso in Singapore and I have been wanting to use them since forever!
They came in like 6 sizes and is more useful than my 3-size star shape cutter which smallest one is rather large. These one has a much more smaller cutter for the inner. I could cut the inner shape with the smallest cutter and not waste the inner cut outs.
Between the cheese sandwiches are steamed corn. This is one of Ashley's favourite. Since I packed this for Ashley today, Kimberly gets some too.
This here is Ashley's bento
Bento #84
Steamed corns !
Heart shaped cheese sandwiches !
With some grapes cos Ashley prefers grapes over honeydew.
Now to wait for Kimberly to get home cos both kids are going into office with me today for some late work since MIL couldn't come down this week to mind the kids and I have a 2 day continuous trial on Monday and Tuesday.
Happy bentou-ing, all !!
Labels: Bento

---