"here" .For older bento posts, just click on the monthly archives at the side bar.
Tuesday, October 14, 2008
bento #85 and bento #86
Friday's bento meal is merely pasta with weiners and tomatoes.
Friday's bento is a speedy one because I had needed to drop Ashley off to school as early as I can and get some work done in peace in that 4 hours' time before it's time to pick up both kids. MIL couldn't come down this week and I have scarce time to prepare for the trial coming up on Monday and Tuesday.
Bento #85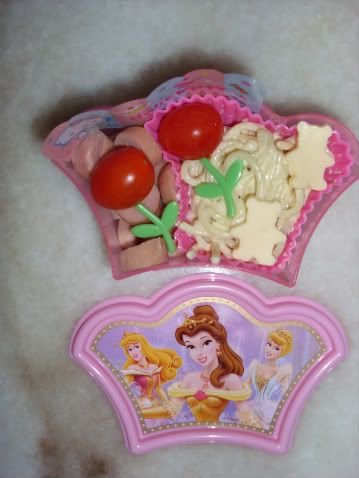 The pasta was cooked the night before and the cheese sauce cooked and combined in the morning.
Boiled some weiners while I got the kids ready for school. Didn't have time to use any of my bento accessories, so I only cut the weiners into bite size.
I thought to add some extra calcium in there for Ashley's benefit, being a non formula-milk drinker. So cut out some teddy bears to adorn the otherwise lame looking pasta.
Both kids get the same bento meal to make their momma's life easier.
Ashley took hers on the ride out to school. I was told that she took a hearty lunch in school as well when I picked her up later that afternoon from school. Apparently, the school's kakak cook a mean long life noodle with ABC soup and ikan bilis stock.
So, I only packed a lunch for Kimberly.
I took both kids to the office with me on Friday cos I had needed to work late.
This is Kimberly's bento lunch.
Bento #86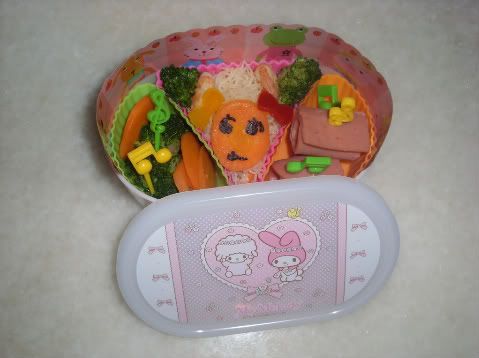 Packed her some homecooked fried meehoon. Have I ever mentioned that my kids like their noodles white? They don't ever take kon low mee or char kuew teow, or any noodles brown or dark in colours. Hence I always have to cook noodles at home for them. Wouldn't it be so convenient to buy hawker stall noodles and just pack them in instead. That would save me a lot of work.
Anyhow, the noodle was fried with ginger, garlic, carrot and prawn. The brocolli was blanched with salt water.
Decide to dress up the plain bento meal with a carrot face, and a brocolli ponytails with red pepper and yellow pepper ribbons.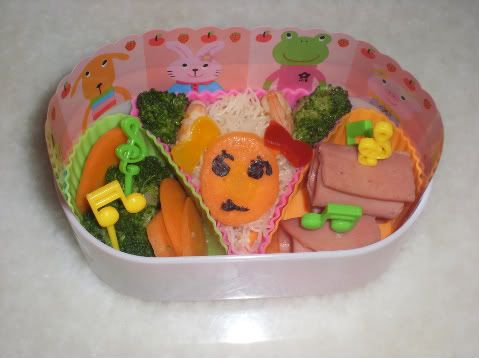 Packed some rolled turkey slices on the side for her as well. And some more brocolli and carrots on the other side.
If you ask me, I rather have my meals plain, like so ....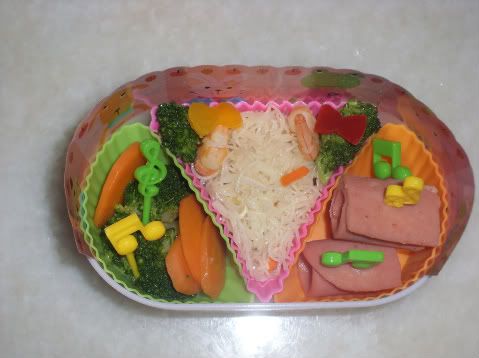 ..... without a face staring up at me.
But I suppose kids find them fascinating, cos Ashley leaned over to study the carrot face and plucked it out of her chieh chieh's bento box to eat it. Lucky thing her chieh chieh didn't mind and found her amusing.
This is Ashley's snack in accompaniment to her chieh chieh's lunch. Some protein in chicken nuggets, and some grapes and sliced zuccini for fruit and vege.
She already had bits of brocolli and carrots while I was packing for Kimberly so I don't think she would want a second helping of the same stuff. She also snitched most of the prawns I cooked for Kimberly while I was packing the bento.
Needless to say, her snack didn't hold much interest for her on the drive out cos she was already full.
So that's last week's trial. I mean, bento. What am I saying? Haha.
Will post up Monday's bento after Tuesday, cos after Tuesday, I would have some breathing space. Heck, I don't know how my mom and my gran cope with 8 kids respectively !!! I can hardly manage my time with just 2 kids.
Have a great week ahead, all, and happy bentou-ing !!
Labels: Bento

---