"here" .For older bento posts, just click on the monthly archives at the side bar.
Monday, October 20, 2008
Bento #88
Ashley's sorethroat and flu graduated to fever over the next few days, so I let her stay back at home the whole week. She hadn't gone to school the whole of last week.
My own sorethroat has graduated to flu and fever as well. It was annoying having to deal with datelines with a sniffling runny nose and dizzy head, so, fortunately, by the 3rd day, I got better.
If there's one thing I dislike, it's getting sick. Nothing gets done smoothly when one is sick, does it? It can really tamper with all those "to-do" list that you have to complete by so and so date.
So, since Ashley is off school, hubby or I get a bento instead. This is last week's bento. Will try to load up here as many as I can.
Tuesday's bento
This is husband's breakfast bento. He appreciates a breakfast bento but would not have lunch in the office. He much prefers going for lunch with his lunch cronies around his workplace or his business associates.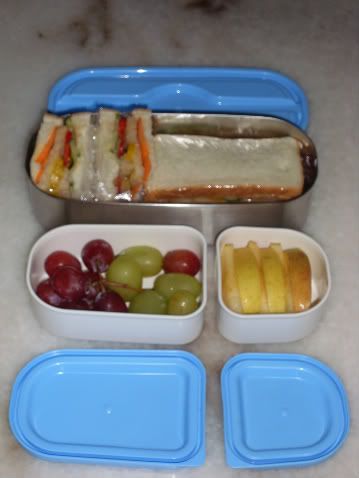 Husband's bento is a thick cut ham sandwich. I layered the ham with slices of red peppers and yellow peppers, zucchini and carrots. Because hubby doesn't like chewing on vegetables, I usually take advantage of a sandwich bento by slotting in as much veges as I can.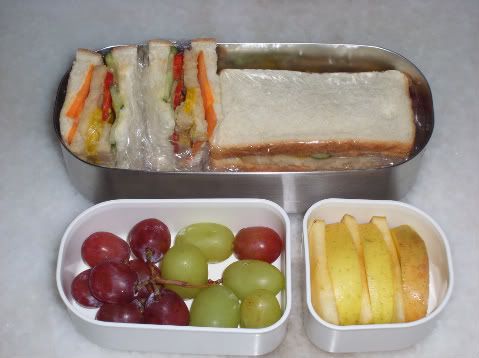 Added some green grapes and purple grapes. Grapes are staples in my fridge cos they make such handy bento gap fillers and they also make speedy bento packing cos you save time on the peeling, slicing or cutting.
I thought that little apple wouldn't taste so good cos of the skin, it's like not a pretty colour? But suprisingly, those small apples can be so sweet.
Okay, not to upload Wed's bento pics in photobucket and see if I can post that up today too.
Happy Bentou-ing , guys !
Labels: Bento

---