"here" .For older bento posts, just click on the monthly archives at the side bar.
Wednesday, October 22, 2008
Toddler's Prawn Fritters Bento
Bento #90
I was so tired being up most of the whole night last week carrying a fretty feverish toddler and mopping up vomit spills, changing bed sheets and duvets, that I couldn't get much sleep. It was pretty bad. Ashley threw up like 3 times a night.
So I thought I sleep in instead of packing bento meals for hubby or Kimberly. So there isn't any bento last Thursday and Friday.
Ashley's fever last a whole week ! And feverishly high too, at that!
I was running through all the possibilities in my mind, dengue? Went to google up on dengue. But how come the fever didn't receed? She hasn't any appetite over the week and she throw up until there was nothing to throw up but pleghm. Finally breath a sigh of relief when her fever went off on Friday evening. She had missed a whole week's school. Not that I expect her to learn a lot in school, but I was concerned that she might not want to go back after one week.
Come Monday morning, Ashley woke up cheerful and sunny, and told me, "Momma ! Tie my hair, I want to go to school!" Phew !!
Back to bento packing on Monday!
This is Ashley's bento.
It's prawn fritters with 2 riceballs and cherry tomatoes. I mixed the riceballs with egg furikake before shaping them.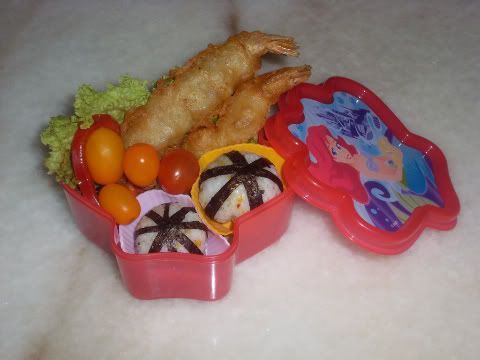 Ashley's teachers has informed me in no uncertain term that I need not pack her any meals anymore, since she is now minded to join her classmates in eating breaktime food and lunch.
But I guess I would still pack for her every now and then. Out of habit and routine, for one thing, but also because if I can, I still rather she eat some protein and fruits for break than biscuits.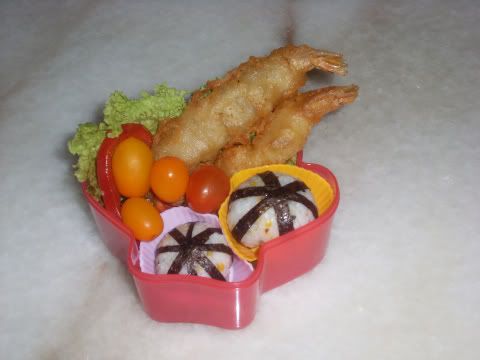 I had wanted to pack her fruits instead of rice balls, but because I didn't plan her bento meal the day before, I didn't relish digging through the vegetable compartments for fruits. With the rice already cooked that morning, I figure I take advantage of it.
Finally I am more or less up to date with bento posts. Haha.
Happy bentou-ing, folks !
Labels: Bento

---