"here" .For older bento posts, just click on the monthly archives at the side bar.
Wednesday, January 21, 2009
Hatching Chick Bento
Bento #112
This was last Thursday's bento. There isn't any bento meals on Wednesday because I was late for court. I had to go in office to get some stuff so had to leave the house really early and left the kids to hubby's "good hand". They both made it to school ..haha..it was a relief to know. Besides, Kimberly would be having pizza from her school's lunch anyway so she is bound not to "starve".
Kimberly didn't get a bento Thursday because she requested to buy from the canteen like her friends does.
So, this is Ashley's bento.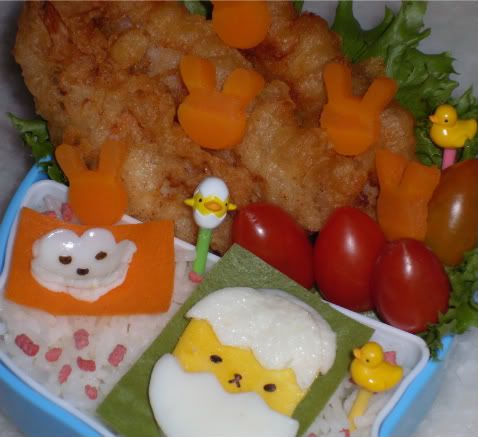 Because I know that she hasn't been having much protein in school lately, I thought I top it up with some of her favourite prawn fritters for her lunch instead. They would be having fried rice, which Ashley doesn't fancy, so I gave her some white rice for lunch.
I topped the white rice with a hatching chick for her viewing pleasure. Haha.
The hatching chick is really quite simple to make. Just segregate the white and the yellow from an egg and put both in seperate ceramic bowl and dunked it in the microwave or the steamer till its just cooked. Then cut. haha.
Ever since I set eyes on this cutters that I got from CP, I knew that I wanted to do a hatching chick bento.
Isn't this cutter just the perfect shape for egg shell?
It even come with an instructions book on how to make faces !! Kimberly would have love these little girl faces !!
The cutter didn't offer the inner shape for the egg yolk, so I use a cicle cutter and trim it down the sides to fit the eggshell.
CP's cutter has this puffy little cloud shape too, which I just love, hence I fix Ashley one little Ms cloud to accompany Little Chick.
Oh yea, be mindful not too overcook the eggs, else it will curl up like Ms Cloud's tail ends over there. If you use a smaller bowl, you get a nice thick egg white, but I hadn't wanted to dig out the small bowl since the larger one was within reach. The egg white didn't turn out nice and thick, but long and thin. I had to top them up double instead.
I sat them both on cut out pieces of lunch sheet for easy transfer and to distinguish the whites from the rice.
As usual, I topped the bento meal with cut out carrots, since both my kids are those for carrots. Instead of scattering my usual teddy bear carrots on top, it's little bunny carrots this time. The teddy bear cutter was the only cutter I have small enough for carrots *grin* till bunny cutter came along. Got those bunny cutters from 100yen shop a few weeks back. Man, I was happy when Chooi Peng told me about them. Grab one for myself and one for CP and just as well too, cos they were all sold out like the next 2 days itself.
Once you get into bentou-ing, you have an idea of what kind of food you can fit into the shape you that wanted to create on your bento meal,and it keeps getting easier and faster. If you check those Japanese mom's blogs, its always the same stuff, ie, egg for anything yellow or white, (unless you colour them), vegetables for any trees or plant creations, quail eggs or any round food for characters. After awhile, you catch on and you get to know what you can create out of a character or an object. The ideas are more or less the same. The only modification is that you suit your pantry and the stuff you have in your fridge to fit into them. Sounds simple, yea? *grin* It is, truly. Haha. Hope this will get you guys on the track to kyaraben bento every once in awhile. It really is only another 5 or 10 minute's extension of your time.
Happy bentou-ing guys !! And have a great week ahead !!
Labels: Bento

Tuesday, January 20, 2009
Moo Cow Bento 2
Bento #111
Well, I did warn you about an onslaught of moo cow bento-s!
Not happy with the earlier moo cow, I did another one again soon after. And didn't stop there either *grin*.
This was last Tuesday's bento. There wasn't any bento on Monday cos I woke up late. haha, and of course if I woke up late, everyone is late as well. I am their designated alarm clock around here, besides the designated slave, driver, errant runner and so on, as is with most moms.
I had some time on Tuesday cos I let Kimberly sleep in till 7.30am. Kimberly slept late the night before. I got her dad to send her to school ten minutes before her classes starts at 7.50am. It's only 5 minutes drive from home to school.
So, having a little time, I decide to top the bento box with a hopefully, prettier version of the earlier moo cow.
Kimberly's bento is a thick crust butter sandwich topped with a slice of cheddar cheese and a slice of smoked ham. I had wanted to sit the cow on a thick cut ham but it would take time to take out a can of spam, fry it and cut it, so a deli smoked ham it is then.
The bread is home made, so I slice it the height of the bento box. The thing about home bake bread, you can slice it as thick or as thin as you like. But you can get those thick sliced bread at supermarkets as well.
I added two chicken drumlet on the side for her. Segregated the greasy drumlet from the sandwich with some cherry tomatoes.
Filled the gaps with crab stick stuffed kamaboko (fishcake) and minced meat filled kamaboko so that the sandwich doesn't move around. As usual, the lettuce helps cushion the sandwich and keeps it in its position.
This cow shape is created with the same teddy bear cutter I used earlier, except that I trim it a bit with a sharp knife to make it more rounded at the side and flatter at the top. I have seen a yellow teddy bear cutter at
CP's
site which is the perfect shape for the cow with some minor trimming, but I dont have that one, so I made do with this existing one that I have and trim it a little bit more.
Instead of lunch sheet, I use cheddar cheese slice this time for its noose and horn. Use a different puncher for its eyes and nostril as well.
Jessie
had asked for a tutorial. Kawan, as usual, in my haste, I may not have time to take pictures, so will just show you the cutters and punchers I used instead.
I used that small tupperware to cut out the bread, the cheddar cheese and the smoked ham. The blue cutter for the cow, with some trimming, and the yellow cutter for the noose and horns. And that's the puncher for the eyes. Hope that helps.
Have a great day today, guys ! And happy bentou-ing !
Labels: Bento

Monday, January 19, 2009
Moo Cow Bento 1
Bento #110
Boy, am I late in updating my posts, haha.
It has been a busy weekend. We spend Saturday sending Kimberly to her various classes, and with the limited few hours we have left, we attempted to get a dishwasher from the Harvey Norman sale. There isn't any washer, so hubby ended up getting an LCD for his dad.
After dropping off the huge box back home, we had to quickly run over to Eu Yan Sang at SS2 to get a hamper for hubby's friend's housewarming party and fortunately, did not turn up too late for the occasion. And it is such a lovely house too.
I also had the occassion to meet a lovely young girl,
Yishen
(hope I spelt it right), at the housewarming party, who recognised Ashley and Kimberly and told me that she read my blog. It is so flattering to know that you do actually meet people who read your blog. haha. If you are reading this today, it was nice meeting you, dearie.
After the housewarming party, we took another 3 1/2 hour drive back to FIL cos hubby had needed to settle something at the branch office.
We got back here past midnight from FIL's place just now and I have just finished unpacking and getting stuff ready for the kids' schooling tomorrow. Sigh..these few weeks has been hectic. Sometimes, I find myself setting my alarm clock at 3am just to get stuff done.
Since I am still wide awake after getting back from FIL's, I thought I post this up before the little one frets for me in her sleep again.
This was last Wednesday's bento.
This is my first moo-cow attempt. In later posts, you will see that I have tried plenty last week.haha, just bcos moo cows are so adorable! Will post them later when time permit. Sorry for the bento backlog, guys !
It's Kimberly's bento. It's 2 pooh bear moulded rice beneath the moo-cow.
The moo cow is made of cheese (what else? haha) and patches of seaweed over its eyes. Egg sheets made up its horns and its noose.
The eyes and nostrils are seaweed cut free hand. Just simply snip a cicle into half for the eyes and elongated triangles for the nostrils.
The moo cow was supposed to be sitting atop 3 equal size spam slices but Kimberly had strolled into the kitchen and plucked them off the chopping board to eat them without my awareness. So I had to cut out an orange coloured lunch sheet that I bought from
CP
to sit the moo cow on. haha. I tried a bit of the lunch sheet. It taste slightly salty but not much flavour otherwise.
There are 3 other spam slices on the right hand side beneath the cherries.
I added her favourite fruit of the moment, mandarin oranges, adorn them with more lunch sheet cut outs and slot some grapes to fill in the gaps.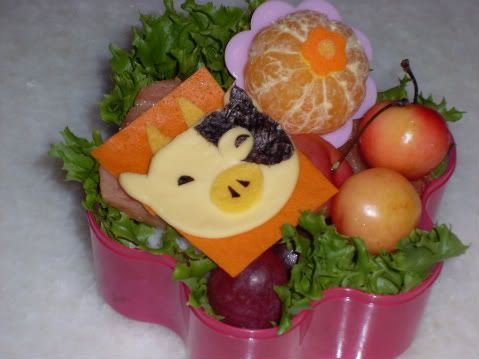 Kimberly ate everything except some lettuce and I kind of suspect she shared some with a classmate. However, I don't mind since I like her to have some space in her tummy later come lunchtime 3 hours later.
Okay, going to hit the sack now.
Hope its not black monday tomorrow ! haha.
Have a great week ahead, guys !!
Labels: Bento

Thursday, January 15, 2009
Sandwich Flower Bento
Bento #109
This was last Friday's bento. Have some time today so quickly post this up.
This is a pretty quick bento. I think I did this in ten minutes flat, maybe less. hee hee. But you should have seen my hands flying over the sandwich with the cutters.haha.
Good thing the lettuce and cherries were taken out, washed and dried yesterday and left in the fridge for fast removal, and the red pepper cut out and left in a lock and lock.
I peeled the carrot, sliced them and leave them in the steamer while I go wake Kimberly up and dressed her, tied her hair and got her to brush her teeth and wear her shoes.
It's Kimberly's bento, that means her bento box has to be ready by 7am to get to school with her . haha.
It's peanut butter sandwich at the bottom and plain butter sandwich at the top. I top them all off with slices of heart shaped cheese, heart shaped steamed carrots and heart shaped red pepper.
Added red cherries (the last of the lot) at the side and off she go. That was a fast one. ha ha.
I had wanted to add a floral cheese at the centre of everything but she was already late. So all I had time for is just to quickly press the food down to compact it so that it doesn't jiggle around and strap it up. The lettuce helped keeps the position of the sandwich in place.
That was a small portion, as is customary with most of my packed bento meals, but my kids are known for being small eaters. Besides, it works for breaktime. I don't want to fill her up so much that she won't touch her food comes lunchtime 3 hours later.
Kimberly ate everything except some of the red pepper. I think she must have taken a bite or two before deciding she didn't like them and ignored the rest. It is not a familiar item for her so I wasn't suprised.
Will try to post up this week's outstanding bento posts soonest possible.
Have a great day today all. Happy Bentou-ing !!
Labels: Bento

Friday, January 09, 2009
Goldfish Bento
Bento #108
I packed bento for Kimberly on Tuesday and Wednesday, but didn't have enough time to take pictures of the one on Tuesday. Couldn't load up Wednesday's bento cos it's in the other laptop left in my office, so this is Thursday's bento.
It's a goldfish bento.
I wanted to do this goldfish thing a long time ago but didn't have the opportunity to fix it. Whenever I am minded to, the quail eggs are either out of stock or they are not sold at the stores I went to. That's also probably why quail eggs chickies are never prominent in my bento posts. Ha ha.
Finally got some quail eggs the other day and decide to fix this bento.
I fried some noodles again my breakfast and hubby's breakfast. I thought Kimberly can try noodle for her bento that day and decided to top the goldfish quail eggs on top of it.
As some of you may have noticed, kyaraben bento is probably just a 5 to 15 minutes extension of a normal bento, depending on how much details you put onto it.
Mostly, all you have to do is fix a character on top of the whole food, or on top of a portion of the bento box; be it ham based, weiner based, kamaboko based, vegetable based, egg based. Whichever food you can make character out of, really !
In this case, it's quail eggs.
Simple, right?
Instead of plain quail eggs and plain round carrots, just use a heart shaped cutter and cut out the fins. Then cut out a similar shape in carrot and replace it over the eggs to make the fin.
Cut another heart from a carrot circle in a bigger size and place it behind the quail eggs for the tails. Secure the fish's tails with foodpicks.
Add nori eyes and hey presto, you got goldfish. It's really fast work if you use a cutter and worth the extra 5 minutes considering the effect it has on my otherwise visually lacking bento.
This is my first attempt, so the sides off the goldfish's fins are kind of thin and stretchy. You may want to place the cutter over a thicker part off egg white instead. I didn't realise that egg whites on the side I cut was that thin.
Kimberly's fried noodle was topped with snap peas bits. Since I ran out of lettuce, I lined the noodles with slices of zucchini.
Kimberly had liked the mandarin oranges that I packed for her the day before, and she asked for it again. I added a slice of cucumber and a Hello Kitty print carrot on top of the orange because I had already done the nori eyes and mouth as ornamental touches on the orange the day before. The carrot was going to be a fish shaped carrot but she asked for a Hello Kitty print.
Added cherries on the side cos it's the only other fruit I have in my fridge right now.
By the way, if you are going to be packing mandarin for your kid's bento box, it pays to ask the grocer where the mandarin oranges are from. My fruit grocer told me not to get those from the province, if I am not mistaken, pronounced in Cantonese as "Har Moon". Apparently there are some issues with the mandarin oranges over there. Hope that helps.
It's Friday again, and weekend is around the corner. Will try to post Friday's bento soon.
Meanwhile, have a great weekend, all !! And Happy Bentou-ing !!
Labels: Bento

Monday, January 05, 2009
Mushroom Men Bento
Bento #107
I could barely drag myself out of the bed today. The kids are back to school again after a 6 week long school holiday. After enjoying a bento break, it's now back to setting the alarm clock at 6 a.m. It was bliss having to be able to lie in the last few weeks, though.
Ashley didn't get a bento cos she slept late last night and won't be going to school today. Good thing too, cos being the first day, I had needed to send Kimberly to school and sort out her school stuff.
I asked hubby to mind Ashley while I send Kimberly to school on her first day for the year. Located her classroom and since I was there, showed her her locker, shove her art block bag and Mandarin class folder into them, put a lock on them and attach her locker keys on her smart card's tag, then went over to the reception area to top up her cash in her smart tag for just in case she needs them. I even have time to go over to the bookshop to get her some extra exercise books and to catch up with some of the moms before I leave. That's how late Ashley slept in today.
I had a little time to blog when I got home cos Ashley was still asleep. haha.
So, this here is today's bento.
It's Kimberly's bento. It's a cheese sandwich bento.
At least, that's a cheese sandwich beneath all the Mister Mushrooms. Since I have weiners and cheese, I thought I do some mushroom mens. You can use halved cherries, halved tomatoes besides weiners for the top and weiner instead of cheese for the stalks as an alternative.
That's weiners for the Mr Mushroom's tops over there and cheese stix for the bottom. Cutting those were fast. Just half the sausage circles and cut short the cheese stix, easy peasy.
Those white spots, however, takes some time. These white spots are boiled fish balls. I boiled the sliced fishballs with the weiners and the
chikuwa
earlier this morning.
I used a short straw (as I have seen most Japanese moms do) on the fishball as a cutter and then poke them circles out with a foodpick. Then use a food tweezer to place them stragetically over the mushroom tops. That read, in other words, time consumingly. Haha !
I secured those spots with some mayonaise and hoped that they stay. That being said, I carried her bento box for her today (gingerly and at level, haha), so that they don't move too much. I guess those food ornaments should have stayed intact.
I stuffed some zucchini into the chikuwa and added some cherries on the side for her bento.
Oh, shoot, Ashley woke. I guess I will just send her along to school then. I thought she would be up only by eleven or so, instead of this early. Just as well anyhow, with her being in school, that will give me some time to finish off some work in the office.
Heck, it's already year 2009 !!!
May the economy turmoil go easy on all of us and despite the odds, may the greater success be yours! and remember, if life serve us a lemon, make a lemonade!!!
Have a great year ahead, guys !! And and to those who bento, happy bentou-ing, my fellow bento-ers !!!
Labels: Bento

---