"here" .For older bento posts, just click on the monthly archives at the side bar.
Thursday, November 27, 2008
Miss Bunny Sandwich Bento
Bentou-ing has slowed down the last few days in view of the school holiday. I must admit it has been grand being able to sleep in till 8 everday instead of waking at 6 to fix the kids' bento. It was because I had needed to get Kimberly ready for school and her bento box, if any, need to be out by 7 too. And Ashley's bento was packed at the same time although she needn't be out of the house that early but might as well while I was at it.
However, since Ashley is now enjoying having the same food as her schoolmates, I didn't want to be a killjoy. I decide to pack bento her only occasionally and for out and about instead. And perhaps for lunch.
Bento #106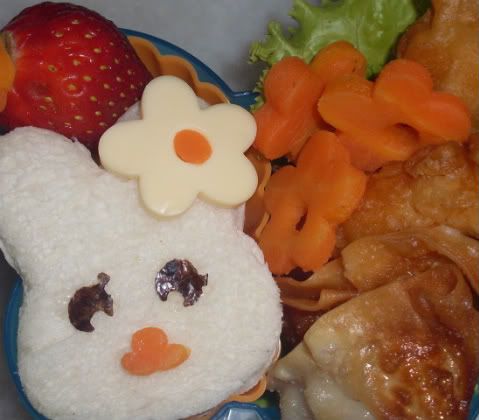 This is Kimberly's lunch. During the school holidays, she had needed to go into the office with me every now and then and it makes sense to pack her a bento meal instead of spending time ta-pauing and pouring them out on plates or bowls.
Encouraged by the earlier
Miss Piggy bento
, where I have discovered that cutting out details didn't entail that much time after all, I decide to fix some features on her sandwich as well. This took me an extra 5 minutes only, but doesn't the extra 5 minutes make a huge difference to her otherwise normally featureless bento!
Kimberly is having 2 large prawn fritters and 2 gyoza (also fried, to ease the workload. I added some carrots in the steamer while frying the food, and cut out the bunny sandwiches.
Those are cheese bunny sandwiches. I figured the cheese can make up for the lack of dairy in her diet the last few days.
Her Miss Bunny has nori sparkly eyes, carrot nose and cheese hair bow.
Since Kimberly likes carrots a lot, I topped the bento meal with a few more floral carrots.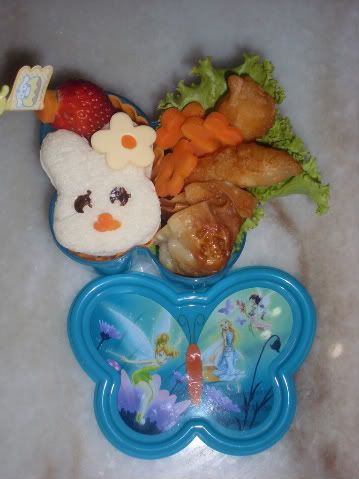 Added 2 strawberries for fruits.
It is rather pleasurable to see the kids' expression of enchantment when they open up their bento boxes, particularly after their Miss Piggy's bento. I probably will endevour to pack more kyaraben bento for her from now on, with time's permit, of course.
Happy bentou-ing, all ! Have a great week ahead !
Labels: Bento

Tuesday, November 25, 2008
Miss Piggy and Mr Meatball Bento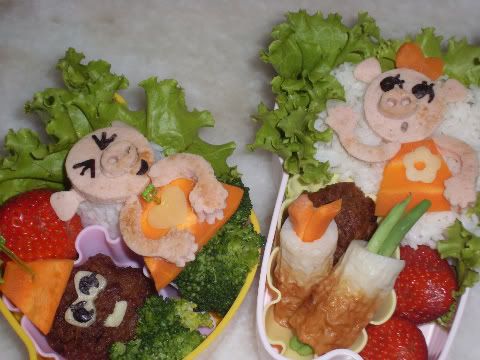 Kimberly will be going to my mom's place today. My mom wants her to stay the night so that she can coach Kimberly on her mandarin but I wasn't ready to let her spend the night out of home yet. haha. So we shall see if my mom won the battle or me.
Kimberly has been excited about spending the day at her cousins' place and has been packing her clothes, books and toys whole night. And..haha..junk food too.
I know she won't starve at my mom's but I packed her a bento meal anyhow.
Bento #105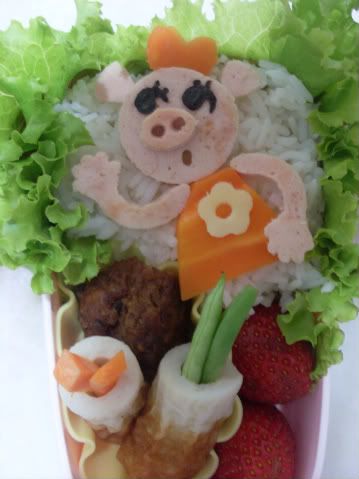 This is Kimberly's bento lunch. It's rice with a huge fried mince pork meatball on the side. I shape them big so that they fit into bento box better. Those tiny ones tend to roll all over the place taking up level surface.
I also added some
baisho chikuma
stuffed with carrots and beans. I love these stuff. It's really nice and crunchy when you roast them in the oven. I didn't roast them this time but boil them instead cos Kimberly has a painful ulcer in her mouth and I didn't want to encourage too much fried food. That fried meatball is
heaty
already in itself.
Since its school holiday and I have time on my hand, not having to rush for the 7am out of home bento box, I have some fun with ham slices and carrots.
I finally made use of the punchers and cutters I got from Veronica of NST. I got them as early as March and have never made used of them. It's been 7 months now. Time to brush the cobwebs off them. haha.
I made little piggy faces with the ham and use steamed carrots for the little dresses. Added a carrot ribbon on top of Kimberly's Miss Piggy and a cheese flower on her little carrot dress.
Stuffed some strawberries at the side to fill the gaps.
Bento #106
This is Ashley's bento lunch.
Ashley has a pooh bear moulded rice with blanched brocolli. And one lone mince pork meatball. I added a carrot hat for her meatball and some sparkly eyes.
Added a cheesey smile on top of Mr Meatball to accompany her Miss Piggy. The hat keep falling off so I had to secure them with a food pick. Fortunately Ashley wasn't one who fiddle with foodpick as heard of other kids. She would pluck them off her food and put it outside the bento box. So far so good, I haven't lost any foodpicks yet.
Ashley's Miss Piggy has squinty eyes and a cheese heart adorning her little carrot dress.
I gave Ashley only one strawberry cos she didn't like them as much as Kimberly does.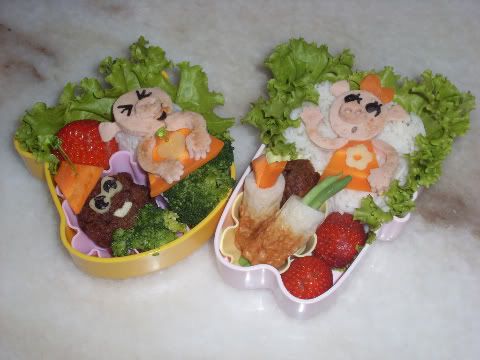 I love having time on my hands. You can do so much ornamental little touches to a bento meal.
Happy bentou-ing guys ! And have a great week ahead !
Labels: Bento

Monday, November 24, 2008
Bento #104
The contractor is here fixing the plumbing. It is a major fixing up. Our next door neighbour is equally affected. And this from a reputable developer some more !
Sigh..this is going to take a whole week !!
Anyhow, in view of contractors walking in and out of the house, I will be working from home the whole week. It is rather disconcerting with the drills, but what to do.
Kimberly has been complaining whole day. "I can't hear", she yell in frustration when she can't hear the t.v. She shouts, "Abang, can you keep it down already?" over the roars of the drills, with me shushing her in shame of her lack of manners when she tried to talk on the phone with her Ah Kung. Just a few seconds ago, she ask, "Uncle, how long will this take?" The
lau pan
laughed and say, "this is only the first day".
Sigh.... the poor kid.
And the maid, she has been playing eyes with the Indon workers whole day, walking out and about and around them, busying herself with irrelevant tasks. Sigh.. nothing is getting done.
I send Ashley to daycare for the whole week so she could nap in peace in the afternoon.
Having time on my hand, I decide to fix Kimberly a bento instead.

Bento #103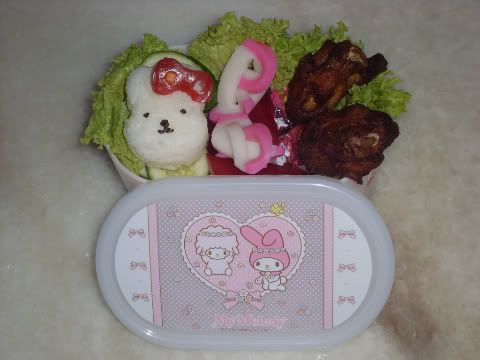 It wasn't supposed to look like this. It has 4 kamaboko on top covering all the vacant spaces. But Kimberly couldn't wait and ate 2 before I returned to the kitchen with my camera.
Hence the sparse top.
Kimberly's bento lunch is 2 teddy bear moulded rice with water apple ribbons. I segregated the moulded rice with slices of zucchini.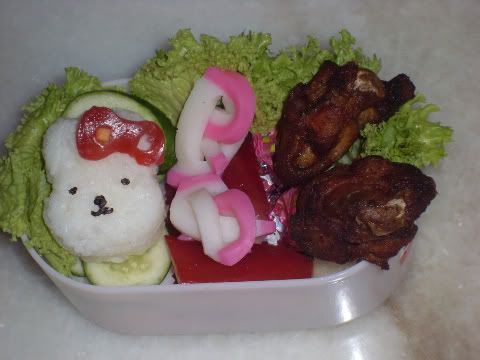 Thare's 2 fried chicken drumlet wrapped in Hello Kitty aluminium foil at the bottom. I filled up the gap with thick chunks of water apples and top them with 4 kamaboko. Now left 2. haha!
This was going to be a quick post, so will pen off now.
Aarrgghhh..drill..drill..drill..will it ever end? And this is the first day, no less !!
Anyhow, happy bentou-ing, folks !
Labels: Bento

Friday, November 21, 2008
Weiner flower bento
I have been wanting to do the weiner flowers for a long time now. Finally had the chance to do it today. I have always been dumping frozen wieners into the pot to boil instead of cutting patterns unto them. On the days when I have the presence of mind to take it out for defrosting, there isn't time due to waking up late or time used up in other stuff like frying or cutting.
Today I have plenty of time to take them out for defrosting … hee hee …it being school holiday… so, today's bento-s meals are flower weiners bentos.
This is Kimberly bento lunch. Kimberly's bento picture first because her wieners turned out better. Haha.
Bento #102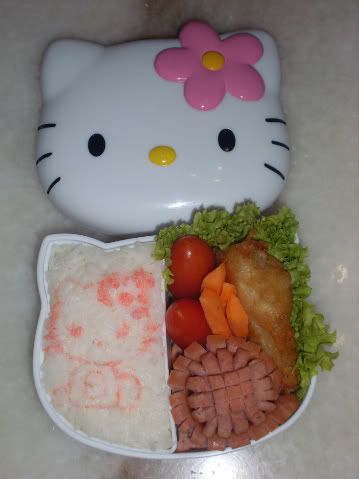 Kimberly has her weiner flowers in criss cross cuts.
She also has a deep fried baby shark nugget at the side, with some carrots (raw, cos sometimes its nice to crunch) and 2 tomatoes.
She has rice to go with them.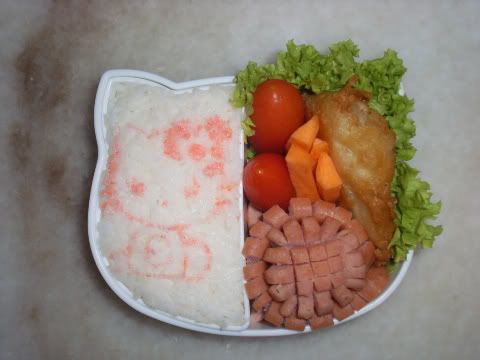 I stenciled a Hello Kitty print on top of her rice with sakura denbu cos Kimberly likes pinks. I am thinking that pink looks too pale, so perhaps I will use a deeper coloured furikake next time instead.
This is Ashley's weiner flower bento meal.
Bento #103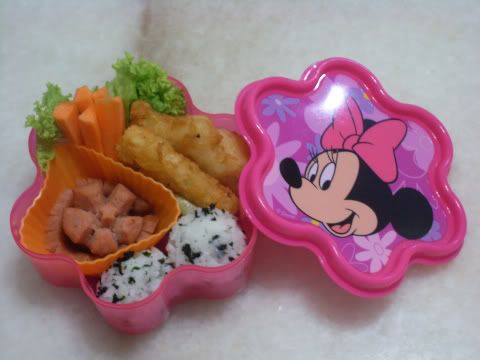 Hers has a star shape in the middle. It didn't turn out so well. I cut them too deep and the weiner branched out too wide.
Ashley has a deep fried baby shark nugget too, with a lone hash brown at the side.
I fried 3 hashbrowns and was thinking of just giving her hashbrowns and fruits instead of rice but change my mind and gave her riceballs instead. Hence, I only put one hash brown instead of all 3. Hers wasn't tightly packed so I carried the bento boxes level to the car and placed them on the car seat while I was driving instead of dumping the bento boxes into their backpacks like I usually do.
Ashley has some raw carrots at the side too. Sometimes the kids eat carrots raw while I was chopping up vegetables to stir fry for dinner.
Kimberly and Ashley had their bento meals in the car after I picked Ashley up from school cos both kids followed me around running errants today.
Kimberly already had breakfast at the Toyota service centre this morning when I send in the car for mobilisation.
The service centre usually have nasi lemak, curry puffs, doughnut and biscuits and the usual coffee, tea and milo for waiting customers. One woman snatched up all 8 doughnuts for her lonesome self while I was standing in line behind her. Gee, can't she leave one for my little girl? I had to wait awhile before they replenish the food so Kimberly could have something to eat. Should have packed a bento meal for her before servicing the car instead of afters cos there isn't any food place for miles around.
Anyhow, I gave Ashley a bento meal today just in case she didn't eat a lot for lunch in school and so that I needn't have to run around looking for food for her while running errants.
She doesn't take much protein or fruits in school and would pick up any protein food from her bento box in the car when I offered them to her after picking her up from school. I usually pack fruits and protein food for her instead of carbo, unlike today.
I prefer to feed the kids in the car cos they are more minded to eat them for lack of things to do.
The only trouble with feeding in car is, I need to vacuum the car very often and shake out the seat mats after every meal. It's worth the trouble so long as they get food in their tummy.
It's Friday again..the week past by so fast and I haven't even gotten much work done. Time flies by so fast as one gets older. Or is it just me?
Both kids are tuckered out and are taking their naps. It is hard work tagging along their mom running countless errants...cos they practically had to run after me on the sidewalks to catch up. haha.
Have a great weekend all, and happy bentou-ing !
Labels: Bento

Monday, November 17, 2008
Bento #101
Today is the first day of Kimberly's school holiday. It was grand being able to sleep in till 8am instead of waking up at 6am to get Kimberly to brush her teeth,tie her hair, dress her etc.
Ashley, on the other hand, is still going to school. Kindergartens usually have different holiday schedules.
Anyhow, I fix this bento meal for Ashley today.
Bento #101
It's turkey slices and bread roll-up, and edamame on skewers.
With chinese New Year around the corner, teeny weeny mandarin oranges have started making an appearance.
To give the kids a break from their usual apples, pears and grapes, I got some mandarin oranges and
jambu air
(water apples) for a change instead. Those seasonal fruits don't come by every day.
The
jambu
-s are really firm and sweet, not to mention huge. That's just half a fruit up there!
They were quite unlike most that I have tasted before. And a lot better than those you get in Bidor or stopovers at the highways. They don't come cheap either. RM9.90 for 5. But they are totally worth it. I don't mind getting them the next time they came along.
Gone are the days when we were able to just pluck
jambu air
from the neighbouring blossoming
jambu air
trees saddling on our bicycles. Sigh..
Anyhow, as luck would have it, Ashley's teachers did not open up her bento box. I think they probably forgot since I have not been regular in packing one for her on a daily basis in recent weeks. Probably would have to let them know from now on whenever I fixed her a bento meal.
Ashley has already ate lunch in school and was not hungry, so Kimberly ate them instead when we picked Ashley up from school. She has been tagging along when I send Ashley to and fro the school.
Can someone give me some ideas on where to park your schoolgoing kids during the holidays? Kimberly refused to go to her grandparents, and I really don't want to bring her along to the office with me every morning. I checked out some places but they cost liks RM100 to RM120 per day for basic things and they only last 5 days. Some other holiday camps are not practical for her age. Any suggestions? I welcome any feedback at all.
Worse come to worse, I will just have to pile lot of revision workbooks in front of her and leave her in the office conference room while I get some work done till it's time to pick up Ashley.
Anyhow, have a great week ahead, all. It's a breeze on the road with less traffic now that the school holidays are on, isn't it?
Labels: Bento

Friday, November 14, 2008
Bento #100
I have been late with the bento posts. It has been a hectic week rushing for datelines. Finally finished all the datelines on Thursday morning and letting out a sigh of relief.
The streamyx in my area has been down the last few days as well. That's why I haven't been bloghopping around, nor post any bento posts.
This is a catch up post on last week's bento meals. It's my 100th bento post.
Bento #100 came and went without much fanfare, although I am reminded by GiddyTigers that it's a milestone. But unfortunately, it fell on a Wednesday, which is not a good day for me. I have a lot of datelines to complete within a short span of time and did not fix a kawaii bento as initially intended.
So Bento #100 is a nondescript one. It's not even a toddler's bento or a kid's bento, like those I usually prepared.
But it's a rather good meal,nonetheless, for hubby. Bento #100 is hubby's bento.
It has all his favourite stuff in there, ie. meat, meat and more meat. Or rather, fish, meat and more meat.
I wasn't going to fix any bento that day but hubby asked for one. And I tell you, it is a rare moment when he does, because he usually rather eat out.
Having not planned for any bento today, I dug out all the frozen stuff. (Not that I don't dig out frozen stuff even when I do plan them. haha !)
We have unagi from grocery shopping the day before. And I almost always have frozen homemade meatballs in my stash. So I took out a few meatballs and simmer them with unagi sauce till cooked through. Then I simmered down some frozen store bought gyoza and pan fried them.
Realised that there weren't any vegetables, so I took out some store bought frozen vegetables and heat them up. Those are mushrooms under the vegetables.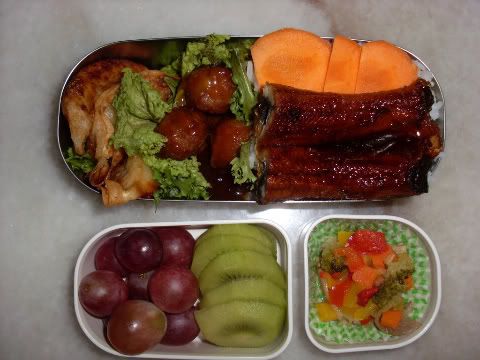 Added my old faithful stand-by, the grapes, and a kiwi from the new box of kiwi from yesterday's grocery shopping. I wasn't planning to buy anymore kiwi for awhile but Kimberly wants them. I suppose I better had do some research and see what's the side effect of too much kiwi, if any. Or else I had better space them out for Kimberly 3 days apart for each. She could take 2 in a day if I don't stop her.
The white rice looks kind of lonely and I didn't want to add any furikake, cos it would be much too high in sodium with all the sauced based food, so I top it with raw carrots instead.
There isn't any bento on Thursday for both kids because I was preparing Kimberly's contribution of party food for her class party. And Kimberly didn't go to school on Friday since the last day of school is only parent-teacher conference day. Ashley would be having bread (food she would eat) for break in school so I didn't pack her a bento meal either.
Well, that's the milestone came and gone. Sigh... so much for a kawaii bento !
Have a great week ahead, all ! And happy bentou-ing !
Labels: Bento

Tuesday, November 11, 2008
Fish Fingers Bento
Bento #99
This is Monday's bento. It's Ashley's bento.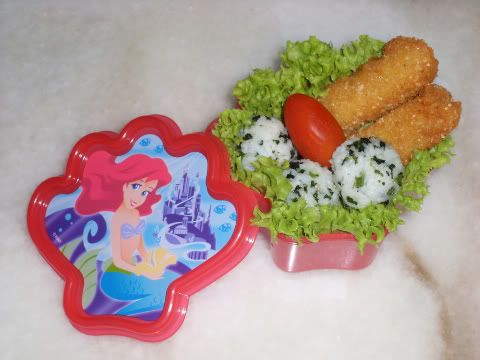 I haven't time to do much but put 2 fish fingers in the fryer. I have already cooked rice that morning for my lunch bento, so I decide to make use of the rice for Ashley's bento.
So, Ashley's bento is a simple bento of riceballs and fish fingers.
And a lone tomato!
I like to keep her on the tomatoes now that I have discovered that a lot of my friends' kids don't take to tomatoes very well.
Since she has caught the habit of eating tomatoes from Kimberly, who is the sort who doesn't mind plum, peaches, berries and tomatoes as oppose to sweeter fruits like apples and watermelon, I didn't want Ashley to go off the fruit. Oh, er, vege, haha!
I took Ashley off school on Tuesday to catch Kimberly's school concert so there isn't any bento meals on Tuesday.
Kimberly had her school concert on Tuesday and Wednesday. I have absolutely forgotten about her concert. If not for a phonecall from her classmate's mom, Sue, the day before, you can bet I would have completely and totally missed the concert.
Kimberly is one of the lantern girls in the Mulan performance. Will blog about it in
my other blog
when time permits.
Didn't pack for Kimberly on Tuesday either cos it didn't seem practical, with her not being in her class most of the time. I told her to eat the school's lunch and gave her some cash for breaktime food instead.
Ashley's teachers has been encouraging me to let her have her break time food with her schoolmates, and I think it may do well for Ashley to learn to be not so picky with her food. I can always top up on her nutrient at dinnertime or tea time.
I probably may be more inclined to pack bento meals for Kimberly from now on instead. I mean, when school starts.
She seems to be getting lankier and lankier right before my eyes. I have been neglecting her.
I probably will just do a bento meal for Ashley for outings instead, or every other day or so. That will save me the morning rush every so often.
The daily 6am wake to pack bento meals is just about taking its toll. I would love to be like some other moms, packing meals at their leisure instead of rushing for the the 7am timeframe.
That would make packing bento more fun and not to say, decorative, cos the "ornamental" part takes time. haha. Hope to have more time for that soon, since I could now delegate the washing up and cleaning of kitchen to the maid, who seemed to have improved a bit. Still slow, but at least the maid is not reading magazines, writing letters, watching tv and/or napping in the toilets anymore. So we shall not be terminating her for now.
Happy bentou-ing , folks !
Labels: Bento

Friday, November 07, 2008
Shu-mai Bento
This is Thursday's bento. It's for both kids.
Bento #98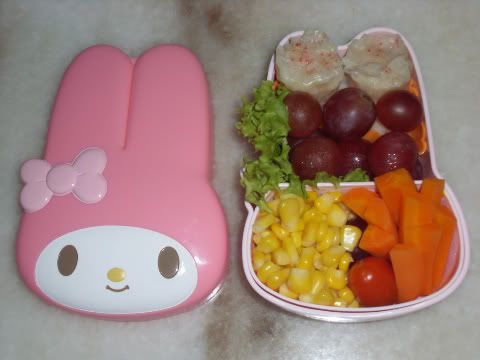 It's 4 steamed shu mai, some grapes and a tomato and steamed corn. Because Ashley prefers carrots in fingers compared to cartoon character prints, I cut hers into strips.
This is Kimberly's bento meal.
It's almost the same, 4 steamed shu mai, some grapes, a tomato and steamed corn. Except that she gets a kiwi instead of carrots.
I had thought that we had finished the last of the kiwi but found a lone one hidden behind the yogurts and sliced that for her as well.
Kimberly finished all her bento food but Ashley came back with some of the shu mai and some of the grapes. I guess it's too much food for her anyway. It's more than I usually pack for her.
Further, she also eat the school's breaktime food it it appeals to her.
There isn't any bento on Friday cos we celebrated Ashley's birthday in her kindergarten and I was late with packing the party packs.
Kimberly didn't get a bento on Friday either cos I let Kimberly off school on Friday.
She was so curious about Ashley's party, I brought her along.
They were not having classes anymore anyhow cos they are practising for their concert performances.
Kimberly,as usual, played the big sister, helping Ashley to hand out the party packs. Sometimes it's an advantage having kids whose age gaps are so far apart.
I blogged about Ashley's birthday over at
my other blog
where I normally post family related posts. It was a simple do. Check out the
cupcakes
that
Nancy of Yozoranitesky
baked for her as party packs over there! Those fondant swirls are oh-so-pretty !!
Have a great weekend, all !
Labels: Bento

Wednesday, November 05, 2008
Bento #97
This is Ashley's bento for Wednesday.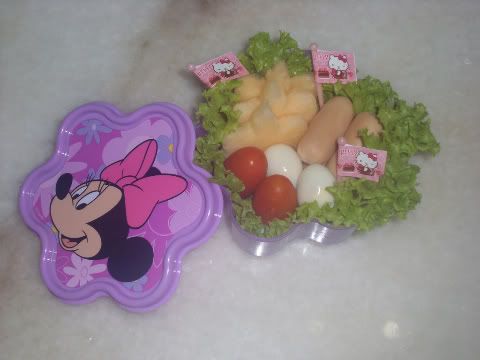 It's honeydew and tomatoes with quail eggs and weiners for protein.
I cut the honeydew in my favourite cutter again. The Marie-the-cat cutter, cos I like the edges all around it. I could have used the Mickey cutter but I prefer this one. I could have used Mickey baran dividers and go for a Mickey theme, but I much prefer lettuces.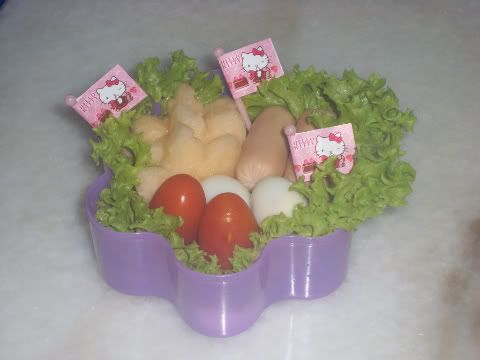 By the way, Cherilyn, you asked about cutting honeydew lenghtwise.
This is how you can cut your fruits if you are using large cutters.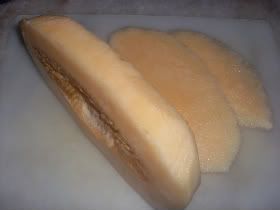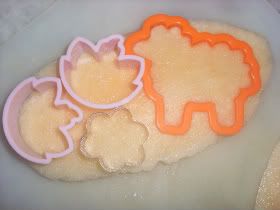 But I don't normally cut honeydew lenghtwise.
I normally just cut them the normal way with just a slight slant because even with cutting the normal way, you can get a longer lenght than usual than you just slant a bit.
The rest, you can cut them all out for convenient sake.
But I normally only cut out the first slice and store the rest in a tight huge lock and lock and stow them in the fridge to cut out the next day for the next day's bento.
Or else, you could use a mini cutter and cut out lots of heart shapes for a mini salad.
Like this.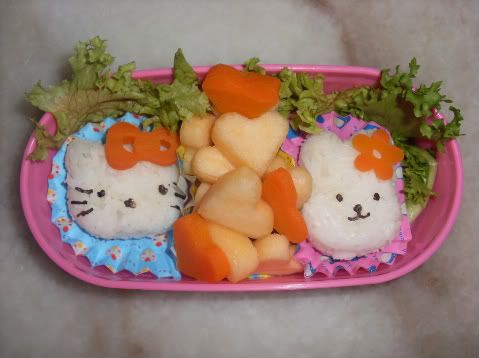 You could also cut your carrots lenghtwise to accomoate larger cutters. Like this.
Those that are too small to be cut into shapes, you can just do julienne. Like this.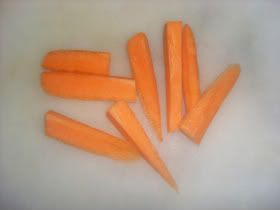 Hope that helps paint a clearer picture, Cherilyn !
I forgot that it's mighty hard to swallow eggs without soy sauce, so added some soy sauce in a pink soy sauce container for Ashley.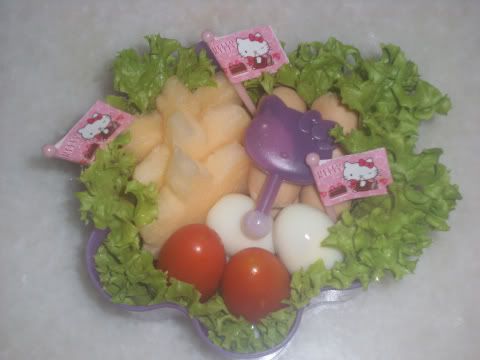 Have a great week ahead, all !
Labels: Bento

Tuesday, November 04, 2008
Bento #95 and Bento #96
This is yesterday's bento. Boy, am I slow this week in catching up. Just loaded yesterday's and today's bento into photobucket earlier this evening. As long as I have loaded them up, the rest are speedy.
Bento #95
Monday's bento is Ashley's bento.
Ashley normally don't take much protein in school. Feeling guilthy about her protein intake, I pack a bento meal for her today.
Fried her some fish nuggets. Those are store bought frozen ones cos we are out of home made ones, but it's not too bad. Not much fillers (breadcrumbs/flour) in there and more
meaty
than most.
Also gave her some green and red globe grapes. One lone tomato because I didn't want her to go off tomatoes by neglecting to offer her them on a regular basis.
Those leaves in the bento box are part of my mesclun salad. There isn't any lettuces in the fridge so I thought I made do with those leaves.
You know, those green grapes are normally sour? Especially those seedless ones? But suprisingly, I found those particular ones to be particularly sweet, even sweeter than some of those red grapes. I am wondering if there is a particular name for this one, so that I will get the same type next time.
I got them from the fruit and vegetable store down the road from my house. They sell really good fruits. Nothing came out from their stores are bruised or soft. The fruits are alway crunchy and fresh. I love getting fruits from there.
Those that MIL bring back are sometimes bruised, and we end up having to throw them away, or juicing them for us adult's consumption.
MIL buy fruits every first and 15th of the Chinese lunar calendar month. I suppose the fruits that she gets aren't so good because she got them from supermarkets? She doesn't usually go to the wet market unless she wanted to buy fishes or chicken to stock up for us.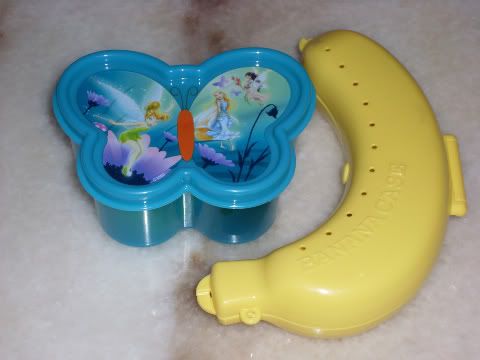 I gave Ashley some pear slices as well to encourage her eating habit of fruits. She doesn't take to fruits as well as her chieh chieh. I didn't want to add any carbo meals cos I know for a fact that she is more inclined to taking carbo food in school.
Packed a banana for her as well cos FIL brought some over the other day.
This is a huge banana holder. The banana is a regular size, but I think the banana holder can easily hold a
pisang raja
with space to spare. Not that anyone would eat
pisang raja
raw anyhow.
Bento #96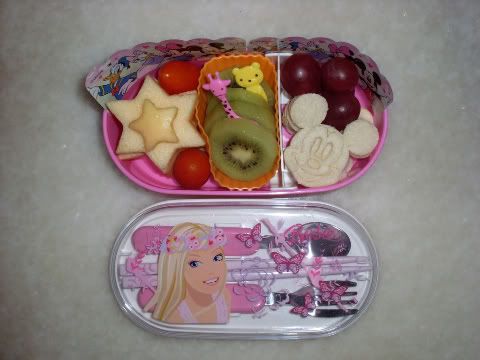 This is today's bento meal. It's for Kimberly cos, haha, I need to show her every now and then that I am thinking of her.
I thought I make use of the new Mickey Mouse cutter that I got a few months back. I really got to utilise all those kitchen gadget that I bought. Sometimes I forgot about them and would reach out for familiar items. Like the Marie the Cat cutter, which I am so fond of? It's the perfect size for apple and pear slices, where I could minimise the leftovers.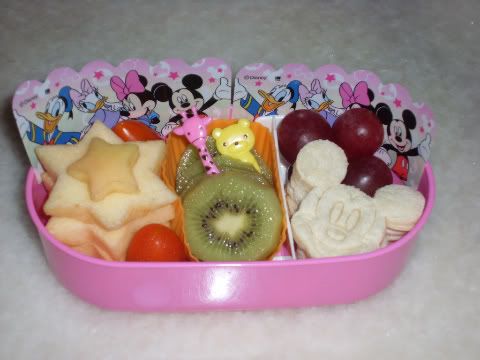 I gave her some butter sandwiches (cos we are out of cheese) and some apple slices (cos we are out of her favourite pears). So much for showing her that I am thinking of her.
I slot some tomatoes and grapes around the sandwiches and apple slices to keep the sandwiches and apples from moving around. And that's the last of those red grapes. I guess we won't be doing any red grapes for awhile.
Put sliced kiwi in a silicon sup to stop any possible kiwi juice from spilling over to other food. At least we have one favourite item here, kiwi. Haha!
That's the last kiwi as well. I really got to fill up my sparse fridge soon. But, man ! That box of 8 kiwis and that box or red globes goes a long way.
Happy bentou-ing, folks ! Have a great week ahead !
Labels: Bento

Monday, November 03, 2008
Bento #94
I am catching up on last week's bento post. This is Friday's bento.
Bento #94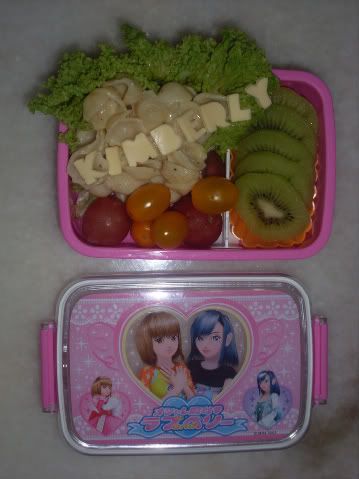 This is a pasta bento for Kimberly. I think she wouldn't like the fried
mee
with minced chicken offered in school that Friday. So I thought I do a pasta for her instead.
Also, she wrote in her diary that " I even know my momma doesn't love me more than she loves Ashley. She even think I don't know".
Isn't that just heartbreaking? So I thought today I let her know that I am thinking of her.
I know, I know, bad momma for reading her diary. I will stop when she is older. But I needed to know for now if she is happy or not.
It takes a lot not to reprimand her everytime she leads her sister into mischief, or rough play that could injure her little sister. And I am so quick to say, "do your homework" whenever I see her watching tv and it's so easy to smile back at Ashley who is constantly beaming up at me.
I don't love Ashley more. I just love them in different ways, that's all. Perhaps I will spend some time with her this weekend and ask her dad to take Ashley off my hands for once.
Anyhow, I put her bento meal in her favourite bento box. The one that had gotten missing before on
the day she came home without her bento box
. I had thought that I will just keep it for family outings instead since it's her absolute favourite. She has this thing for this Japanese girl's anime group, Love and Berry.
Kimberly's bento is pasta cooked with cheesy sauce. I stir fried some garlic and small slices of chicken, then add the milk and the cheese. Then stir in the pasta to combine.
I thought I put a smile on her face by displaying her name on top of her meal. I made use of the alphabet cutter I got from
Chooi Peng
. I have been wanting one of these forever but after getting them, hasn't a chance to use them till now.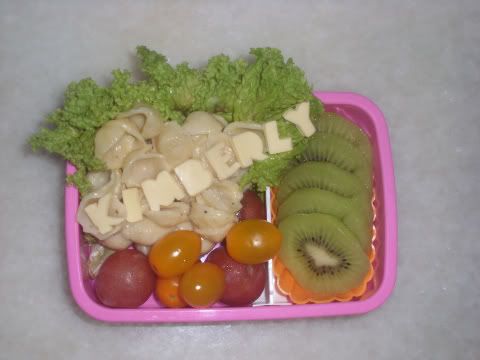 Even though I packed the pasta meal tightly, I am sure the alphabets are going to go askew in transport. So I added a sheet of anti bacterial sheet over her name to make it stick, so that when she open her bento box, she would still see her name displayed on top.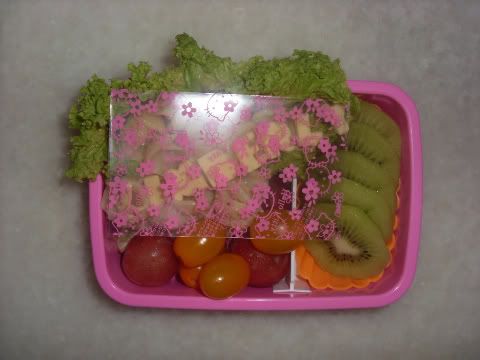 Jacss asked me about the anti bacterial sheets before. So I have put up a pic of it for you,
Jacss
. Hope that helps.
I added Kimberly's favourite fruit, kiwi, at the side and fill up the gaps with grapes and cherry tomatoes. I didn't offer her too much pasta cos I know she is a small eater. Both my kids are small eater. I am so pea green over moms with kids who really can pack it in!!! Makes life so much easier when you don't have to constantly worry over their diet.
Ashley ate her pasta for breakfast at home so I didn't pack a bento for her school.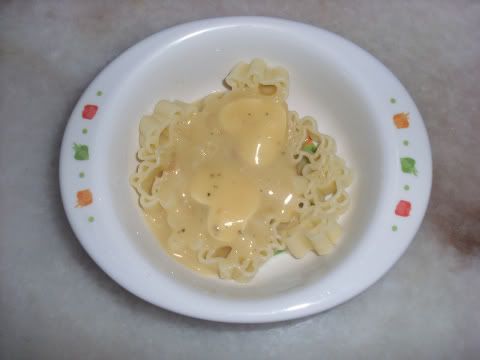 Besides, her teachers and her school's kakak is so pleased with her progress in eating the school's food, I try not to pack bento everyday. Perhaps every other day or so.
I normally cooked the elbow pasta and the shell ones for Kimberly cos she specifically asks for them. I thought I cook the teddy bear shapes for Ashley today (in a different pot)
Kimberly's classmate's mom, Sue has so kindly got these teddy bear shaped pasta for me when she saw them while shopping, knowing that I would definitely like them for my kids' bento meals. haha!
Ashley got up early today. Thanks for the tips,
LZmommy
and
Sue
!! She didn't wake up in the middle of the night last night. I woke her up slightly earlier over the last few days and shorten her nap time. I am hoping she will get back to her routine.
Happy bentou-ing, guys !
Labels: Bento

Sunday, November 02, 2008
Bento #93
This is catching up on last week's bento posts. I hadn't load any of them up till now cos I couldn't locate the wire thingy that download the pics from the digital into the laptop. Ashley played near my work station the other day and must have taken it somewhere. Found it in her toybox today stuffed inside one of her backpacks.
Ashley didn't go to school on Wednesday because she got up in the middle of the night and refuse to sleep till like 5 am. So she slept in till about 11am on Wednesday.
It's been like that the past few days. Help ! Can someone teach me how to get her back into her old routine?
Anyhow, these are the kids' Thursday's bento meals.
Bento #93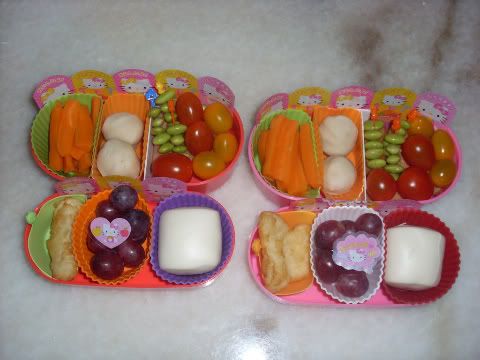 It's a quick one cos majority of the time was taken up putting different food in different cooking gadgets , and popping and skewering the edamame.
Fortunately mankind invented the fryer, the steamer and the gas stove. haha. Cooking different food at the same time sure help speed things up.
I popped the sliced carrots and bun in the steamer and the fishball and edamame into different pots to boil.
Then popped the remaining last 2 fish nuggets into the fryer while I take out bento boxes and silicon cups, and washes the grapes and cherry tomatoes.
Silicon cups sure are time savers.
MIL usually buy fishes for us, cut and packed them, and bring them frozen to us. The fishes that she buys sure beat those around here. So much fresher too.
The nuggets in the kids' bento meals are of odd size. It's because MIL cut out these 2 nuggets in the bento boxes from one whole fish, a
Kurau
fish, I think. The bigger portion is from the middle portion of the fish and the smaller portion is from the tail end.
It's the last two, that why one kid only gets one. I made up for the protein in fishballs. Those fishballs are store bought. Actually,
pasar malam
bought. haha!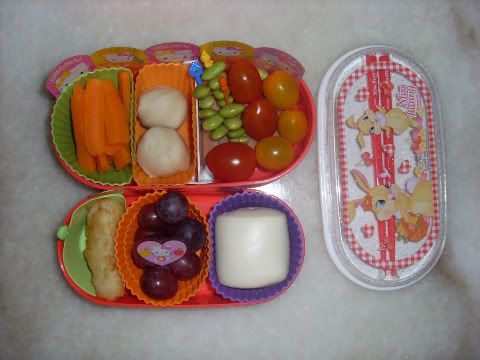 Because the food is more than the kids' usual portion, I put them into this 2 tier bento boxes. They came with chopsticks.
Not that any of my kids are going to put those chopsticks to use. They are still on trainer chopsticks.
But having them with the chopsticks makes them look prettier, doesn't it?
As usual, Kimberly gets her pick first and she gets the pink one, the Marie Cat.
Ashley gets the red Miss Bunny. But I like both of them. They come in their own tie string lunch bags. Will put up pictures of it someday.
So that's Thursday's bento. Now to top and tail both kids and them to bed. Will see if I have time to upload the rest of the bento pictures by tonight into photobucket.
Happy bentou-ing, guys !!
Labels: Bento

---