"here" .For older bento posts, just click on the monthly archives at the side bar.
Thursday, October 30, 2008
Deana's Gifts !
Deana
came down last week. We were suppose to meet at Midvalley so that I could pass her those diapers, and perhaps have coffee and a quick chat. As luck would have it, she is only in Midvalley for 2 days and I couldn't make it on the first day.
She mentioned that she would be leaving the next day itself. I didn't expect her to be leaving so soon. So after sending Ashley off to school, I drop by Boulevard to meet her.
There isn't time for a chat , only for a quick hello!
Deana is such a lovely girl to talk to , and her baby !
I tell you, I can't stop gushing over her baby ! Earnestly I have not seen such a pretty baby girl for a long long time !! Her photos at her blog doesn't do her any justice at all.
She has this "I am such a cutie" written all over her !!! And gurgly laughters, to boot. I think she could charm anyone if she is minded to. haha !!
For such beautiful babies, I think you should have half a dozen more babies, Deana ! Just kidding !
Anyhow, Deana, the sweetie that she is, not only collect those dipes, she also bake my 2 little girls those cupcakes ! How did she know that my girls absolutely have this thing for cupcakes and pretty decorations adorning cupcakes ! Probably the fact that I rave over every cupcakes my little girls enjoy has something to do with it. Ha ha !
Aren't these amazing?
And they are in lavendar, right up my little girls' alley ! Especially Kimberly, who loves all shades of purple!
They each have one on that day itself and the second piece were saved for another day in the fridge.
Those who don't know, Deana takes cakes orders. She is from The Land Below the Wind aka Kota Kinabalu ! Check out her cakes at
Deanacakes
!
The sweetie also gave my little girls these bento boxes ....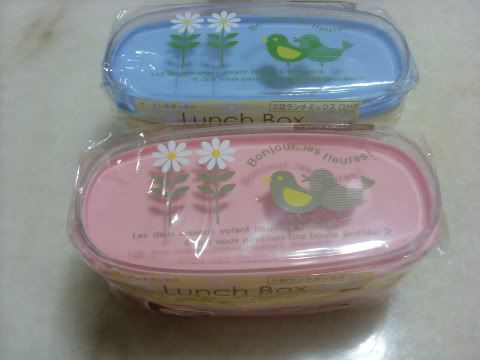 One pink and one blue!
and complete with straps ! Kimberly likes the bunny one but I like the red floral one. haha.
These are lovely, aren't they? We don't have these in our 100yen stores in KL !
Thanks Deanna !! Lurve you lots !!! Muakkk !!!
Hope we can have that coffee and chat the next time you come down here for a holiday !!!
Labels: Bento, everything under the sun

Thursday, October 23, 2008
Car Sandwiches Bento
Kimberly has a field trip today.
With her
last field trip
, the kids were asked to bring their backpack along, so I had made sure that her backpack is as light as possible. With this field trip, Kimberly informed me that they will be leaving their backpacks in the bus, so I gave her a bento box instead.
I thought I take advantage of the new cutter I got from www.nst.my.
It's a Tomica vehicle cutter. I had baked the egg yesterday night and put it away in a lock and lock in the fridge to ease the morning rush. Also cut out some nori wheels but had to fry the nuggets and boil the weiners in the morning.
Got up ten minutes earlier than usual, sliced and put turkey spam in the oven, nuggets in the fryer machines and frozen
shu mai
in the steamer and weiners in the pot. Then pressed out the bread with the cutter while waiting for the food to be cooked and cooled.
There was supposed to be lettuce, which I had remembered to lay out on the table but didnt have time to arrange cos I was like having only 5 minutes left after arranging the cars sandwiches. Was supposed to cut the weiners into flowers too. But had to abandon both the lettuce and the cutting of the weiners.
Bento #90
There are 3 sandwiches in there.
The on on top is one layer of bread and one layer of turkey spam with omelette window, nori wheels and cheese spokes.
The yellow car was supposed to go to the top for colour coordination but because I didn't have time to tie all of them sandwiches, I just layer them with clear food safe plastics and put the one and only tied one on top, which is the brown one.
The yellow car is one layer of bread with a layer of omelette, spam windows and cheese spokes on nori wheels.
With all the preparation the night before, arranging tiny details on a little sandwich still take a little time. So I forgot to snap pictures of them sandwiches before I wrap them. I had to hastily made do with snapping pics with the wrappers on, so it is kind of blurry.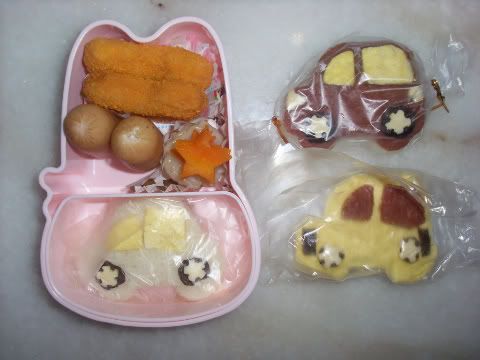 The last car is 2 layers of bread sandwich between one layer of cheese with omellete windows, nori wheels and cheese spokes.
Filled the gap with my trusty fridge "staples", the grapes ! Shown at the above pic, not here.
Sorry for the bad photography. Had to strain your eyes, didn't you?
This is Ashley's bento
Bento #91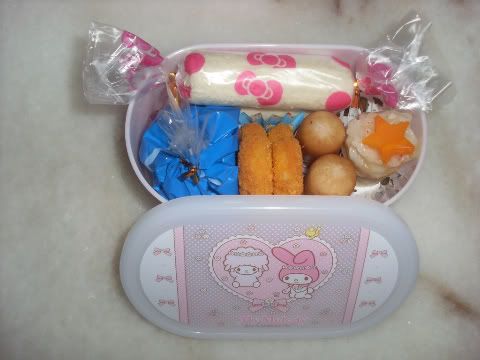 Ashley's sandwiches are tuna sandwiches roll-up and wrapped like a candy.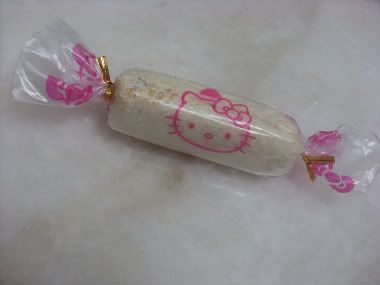 She gets the same food as her sister.
Shu mai
, nuggets, weiners except that I added some apple slices for her instead of grapes.
I put them apples inside a tomica print food wrapper to seperate them from other food. Those who like Ashley's sandwich Hello Kitty wrapper and Tomica food wrapper can get them from
Veronica
cos I got those from her as well.
There isn't any bento for Ashley on Tuesday and Wednesday cos to give credit to Ashley's teachers for easing her into having food with her classmates, I thought I lay off her bento meals for a few days.
I edit this post to add this picture cos Amy doesn't know what I am talking about.
I had asked Veronica ,
HijackQueen
and Chooi Peng if they could bring in these lunch sheets. If they can, it will be bliss preparing colourful bento's, cos you dont have to cook tomagoyaki and colour them and cut them egg sheets for sandwiches.
For example, you can just cut the yellow ones into car shapes, contrast them with green wheels or orange windows and layer them on top of cheese or sandwiches instead of having to cook the eggs and colour the eggs (speaking of which, I still haven't gotten around trying them out yet).
You can even use these as a edible baran divider, tie them into ribbons to adorn your food or wrap your weiners,asparagus or other food with them. It's yellow for egg, orange for carrot, and green for spinach. Let hope our girls bring them in,yea?
Hokay, editing this again !! haha. to add the link !!
Aren't we a lucky lot ??!!
Chooi Peng
is bringing them in !! I have just been informed by her that she had just put it up at her market hall. Fast fast hop over to her
market hall
make your pre-order, okay ? Isn't she such a darling for bringing them in?
Happy bentou-ing, all !
Labels: Bento

Wednesday, October 22, 2008
Toddler's Prawn Fritters Bento
Bento #90
I was so tired being up most of the whole night last week carrying a fretty feverish toddler and mopping up vomit spills, changing bed sheets and duvets, that I couldn't get much sleep. It was pretty bad. Ashley threw up like 3 times a night.
So I thought I sleep in instead of packing bento meals for hubby or Kimberly. So there isn't any bento last Thursday and Friday.
Ashley's fever last a whole week ! And feverishly high too, at that!
I was running through all the possibilities in my mind, dengue? Went to google up on dengue. But how come the fever didn't receed? She hasn't any appetite over the week and she throw up until there was nothing to throw up but pleghm. Finally breath a sigh of relief when her fever went off on Friday evening. She had missed a whole week's school. Not that I expect her to learn a lot in school, but I was concerned that she might not want to go back after one week.
Come Monday morning, Ashley woke up cheerful and sunny, and told me, "Momma ! Tie my hair, I want to go to school!" Phew !!
Back to bento packing on Monday!
This is Ashley's bento.
It's prawn fritters with 2 riceballs and cherry tomatoes. I mixed the riceballs with egg furikake before shaping them.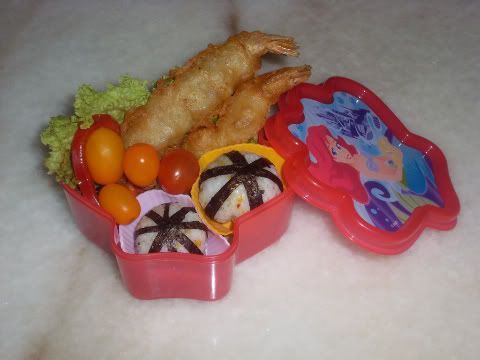 Ashley's teachers has informed me in no uncertain term that I need not pack her any meals anymore, since she is now minded to join her classmates in eating breaktime food and lunch.
But I guess I would still pack for her every now and then. Out of habit and routine, for one thing, but also because if I can, I still rather she eat some protein and fruits for break than biscuits.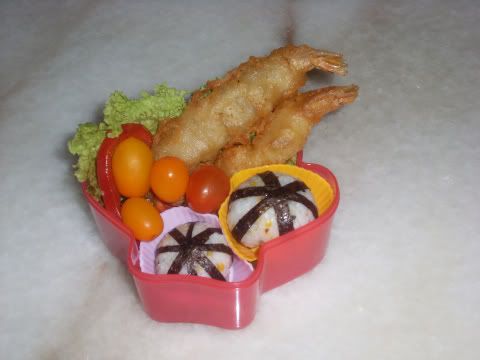 I had wanted to pack her fruits instead of rice balls, but because I didn't plan her bento meal the day before, I didn't relish digging through the vegetable compartments for fruits. With the rice already cooked that morning, I figure I take advantage of it.
Finally I am more or less up to date with bento posts. Haha.
Happy bentou-ing, folks !
Labels: Bento

Tuesday, October 21, 2008
Fermented mustard Pork Belly Bento
Bento #89
Wednesday's bento was my bento. I packed some leftovers from dinner the night before in a lock and lock and heat them up the next day in the microwave before packing them into the bento box.
It's fermented mustard and pork belly from my frozen stash. I usually cook a large batch over the weekend and stash them into 3 equal portion in equal sized containers for freezing. When come dinner time, I would take one box out to defrost and heat up, cook only one stir fry vege and some soup in the pressure cooker.
I put aside a portion of the frozen stash for wednesday's bento the night before. Fermented mustard and pork belly is just about my favourite lunch time food ever ! I cook these whenever I can, but as
Angeleyes
says, it's so difficult to get good fermented mustards nowadays.
Just when you thought you found the perfect one that suits your taste, one that is not too salty, not too "crumbly" ie with the right "crunch", the next time you went back for it , found it different, the tau geh soh will say,"oh, that's from a different batch/supplier. We dont take from the previous one anymore". Sigh.
I thought the pork dish looks dull so I slid some sliced carrots at the side for some colours.
Added a boiled egg for more protein cos just that fermented mustard pork isn't much.
On the other 2 side containers are fruits and veges. They are sliced up kiwis and apple and zucchini slices layered with each other.
For all the soy sauce mini containers lying around my drawers collecting dusts, I forgot to pack some soy sauce for the egg. Lucky thing I have 2 half bottles leftovers from before in the fridge in the office. Else I would have a hard time getting that egg down my throat. haha.
So, that's last Wednesday's bento. Will try to update the rest soon.
Have a great day today, all !
Labels: Bento

Monday, October 20, 2008
Bento #88
Ashley's sorethroat and flu graduated to fever over the next few days, so I let her stay back at home the whole week. She hadn't gone to school the whole of last week.
My own sorethroat has graduated to flu and fever as well. It was annoying having to deal with datelines with a sniffling runny nose and dizzy head, so, fortunately, by the 3rd day, I got better.
If there's one thing I dislike, it's getting sick. Nothing gets done smoothly when one is sick, does it? It can really tamper with all those "to-do" list that you have to complete by so and so date.
So, since Ashley is off school, hubby or I get a bento instead. This is last week's bento. Will try to load up here as many as I can.
Tuesday's bento
This is husband's breakfast bento. He appreciates a breakfast bento but would not have lunch in the office. He much prefers going for lunch with his lunch cronies around his workplace or his business associates.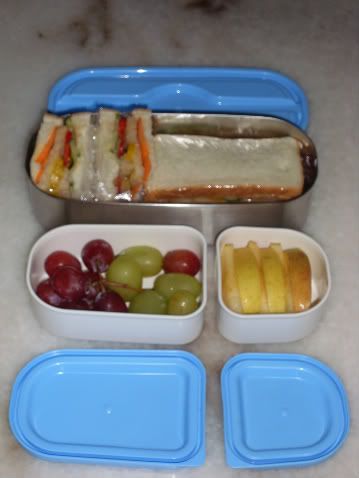 Husband's bento is a thick cut ham sandwich. I layered the ham with slices of red peppers and yellow peppers, zucchini and carrots. Because hubby doesn't like chewing on vegetables, I usually take advantage of a sandwich bento by slotting in as much veges as I can.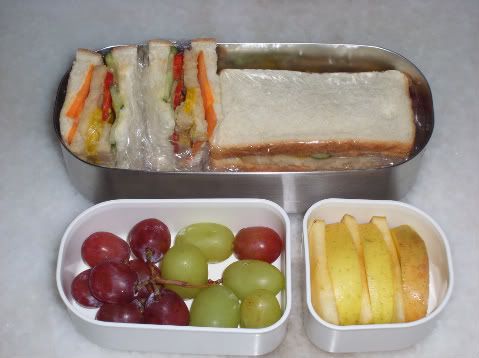 Added some green grapes and purple grapes. Grapes are staples in my fridge cos they make such handy bento gap fillers and they also make speedy bento packing cos you save time on the peeling, slicing or cutting.
I thought that little apple wouldn't taste so good cos of the skin, it's like not a pretty colour? But suprisingly, those small apples can be so sweet.
Okay, not to upload Wed's bento pics in photobucket and see if I can post that up today too.
Happy Bentou-ing , guys !
Labels: Bento

Thursday, October 16, 2008
Hello Kitty Overloaded Bento
Came back from court early today and thought I catch up on my backlog bento posts. The Shah Alam High Court is really quiet nowadays with the shifting of the lower courts to another building. But parking is a breeze now.
Ashley did not go to school on Monday. Since MIL is here, I figure she could stay at home instead, cos with her sorethroat and her flu, she will be more comfortable at home. MIL came over on Sunday. Phew...just in time.
Kimberly had asked for a Hello Kitty sandwich Sunday night. I showed her Pooh Bear cutter, and asked, "How about Pooh Bear"
"I don't like Pooh Bear"
Showed her My Melody cutters.
"Nope, I like Hello Kitty better"
Showed her the whole box!
She glanced at them, then she said, "I think I still like Hello Kitty"
Sigh.....I think I better sell off all my other cutters.
Okay, so the bento meals these few weeks is Hello Kitty overloaded ! And here's another Hello Kitty sandwich bento meal.
Bento #87
They are all cheese sandwiches. The cheese is the only protein in there. Used the bigger Hello Kitty cutter for the bigger sandwich, and use the smaller Hello Kitty cutters for the leftover bread around the edges. The bread were just about utilised very nicely. Not much leftovers. The cheese, too. Not much leftovers there.
I tried to colour the features in with a food writer. However, because of the texture of the bread, the colours couldn't stick very well. But at least some colours got in. Didn't have time to cut out real food for the features, cos real food would have gone together better. But not that day.
The steamed carrots were imprint with Hello Kitty faces.
The apple slices were in Hello Kitty shapes as well. But too many Hello Kitty faces staring up, so I slid them sideways. Add some tomatoes for fruits.
Now to go get myself something to cure this persistent sore throat of mine. If there's one thing I dislike, it's sore throat. I have been known to have sorethroat so bad I lost my voice, ever since I was a kid. This persist throughout my life, at least twice a year. Twice I even had to ask for an adjournment for a trial because my voice box was broken.
I can't scold the kids, I can't get things going. It's rather annoying, actually. I don't even yell at the kids so much that I get my voice box broken. It is just me.
Hope it gets better by tommorrow. And when it does, you bet the kids (in particular, Kimberly, I may note), for all their disobedience, these last few days in taking advantage of the situation, get to hear me roar !! haha !
Have a great day today, all !
Labels: Bento

Tuesday, October 14, 2008
bento #85 and bento #86
Friday's bento meal is merely pasta with weiners and tomatoes.
Friday's bento is a speedy one because I had needed to drop Ashley off to school as early as I can and get some work done in peace in that 4 hours' time before it's time to pick up both kids. MIL couldn't come down this week and I have scarce time to prepare for the trial coming up on Monday and Tuesday.
Bento #85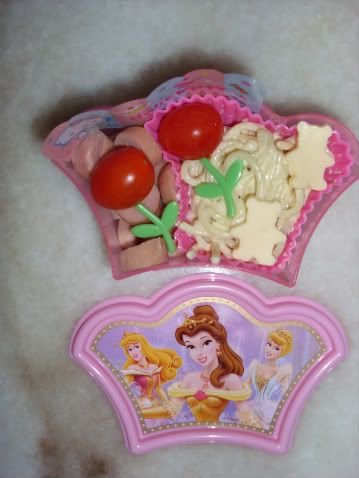 The pasta was cooked the night before and the cheese sauce cooked and combined in the morning.
Boiled some weiners while I got the kids ready for school. Didn't have time to use any of my bento accessories, so I only cut the weiners into bite size.
I thought to add some extra calcium in there for Ashley's benefit, being a non formula-milk drinker. So cut out some teddy bears to adorn the otherwise lame looking pasta.
Both kids get the same bento meal to make their momma's life easier.
Ashley took hers on the ride out to school. I was told that she took a hearty lunch in school as well when I picked her up later that afternoon from school. Apparently, the school's kakak cook a mean long life noodle with ABC soup and ikan bilis stock.
So, I only packed a lunch for Kimberly.
I took both kids to the office with me on Friday cos I had needed to work late.
This is Kimberly's bento lunch.
Bento #86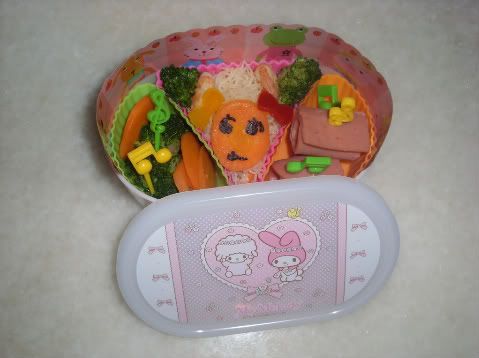 Packed her some homecooked fried meehoon. Have I ever mentioned that my kids like their noodles white? They don't ever take kon low mee or char kuew teow, or any noodles brown or dark in colours. Hence I always have to cook noodles at home for them. Wouldn't it be so convenient to buy hawker stall noodles and just pack them in instead. That would save me a lot of work.
Anyhow, the noodle was fried with ginger, garlic, carrot and prawn. The brocolli was blanched with salt water.
Decide to dress up the plain bento meal with a carrot face, and a brocolli ponytails with red pepper and yellow pepper ribbons.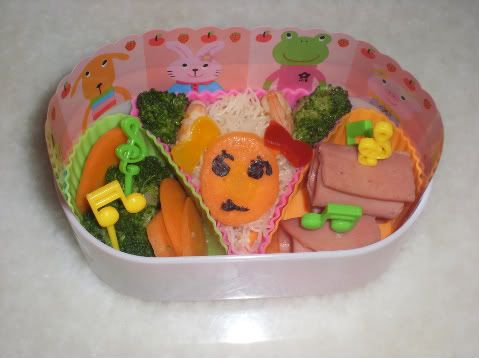 Packed some rolled turkey slices on the side for her as well. And some more brocolli and carrots on the other side.
If you ask me, I rather have my meals plain, like so ....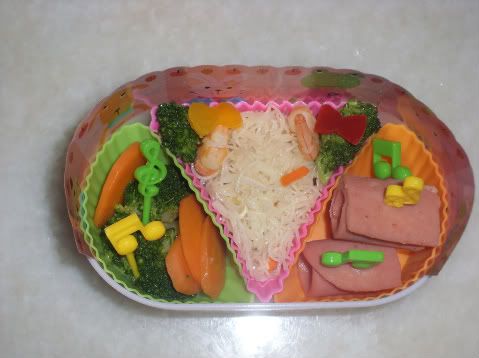 ..... without a face staring up at me.
But I suppose kids find them fascinating, cos Ashley leaned over to study the carrot face and plucked it out of her chieh chieh's bento box to eat it. Lucky thing her chieh chieh didn't mind and found her amusing.
This is Ashley's snack in accompaniment to her chieh chieh's lunch. Some protein in chicken nuggets, and some grapes and sliced zuccini for fruit and vege.
She already had bits of brocolli and carrots while I was packing for Kimberly so I don't think she would want a second helping of the same stuff. She also snitched most of the prawns I cooked for Kimberly while I was packing the bento.
Needless to say, her snack didn't hold much interest for her on the drive out cos she was already full.
So that's last week's trial. I mean, bento. What am I saying? Haha.
Will post up Monday's bento after Tuesday, cos after Tuesday, I would have some breathing space. Heck, I don't know how my mom and my gran cope with 8 kids respectively !!! I can hardly manage my time with just 2 kids.
Have a great week ahead, all, and happy bentou-ing !!
Labels: Bento

Friday, October 10, 2008
Bento #84
Thursday's bento is everyone's bento but Ashley's.
This is husband's bento.
It's inari with various furikake topping, including the sweet sakura denbu just for colours.
I added some flat
lup cheong
for protein, divided with carrots and zucchini slices. We loves
lup cheong
but try not to have it too often cos the sodium content is just so high.
My sis brought over some green grapes the other day. Being single, she hasn't much clue that kids don't really like green grapes compared to its purple counterpart. So I slot as many as the space premits in the divider container for their dad instead.
Added some leftover carrots slices in there as well just so as to fill in the gaps.
Hubby is not one for vegetables and I try to make it up with sliced fruits for him when he gets home from work.
I just don't get it. Some guys do eat vegetables. In fact, my elder brother advocate cleansing the body's toxic with just fruits and vege and he goes on this diet every once in a while. Why just won't my other half eat some vegetables?
On the other hand, his first born has always been one who loves fruits. Kimberly usually go through like one whole sliced apple in the morning (if she's home and not in school) and perhaps one kiwi or another apple or pear, or some melons, or a bunch of grapes in the evening. I wish Ashley could eat fruits like her. She does eat them but only in smaller quantity and always in thin slices or itty bitty pieces.
Anyhow, Kimberly had asked for fruits the day before. And chocolate chips cookies that we baked last Sunday. I shaped them cookies into pretty small rounds so that they fit into bento boxes better.
I checked Kimberly's school's menu and found that the school would be providing chicken rice with roasted chicken. So it sounds good to have fruits after that. The menu's "fruit of the day" always sound dubious. It could be papaya which she doesnt take, ever. The school's canteen usually tropical fruits like these, and watermelons. I hardly see any variant.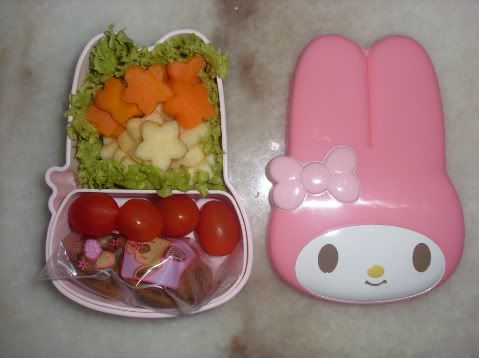 So Kimberly's lunch box for Thursday is just fruits and chocolate chips cookies.
Ashley slept till 11.30 a.m. She woke up at 3 am the night before and went back to bed only at 9 am. So I thought I let her off school.
So no toddler's bento on Thursday.
This is my bento. It's the same as hubby's bento, only smaller in quantity.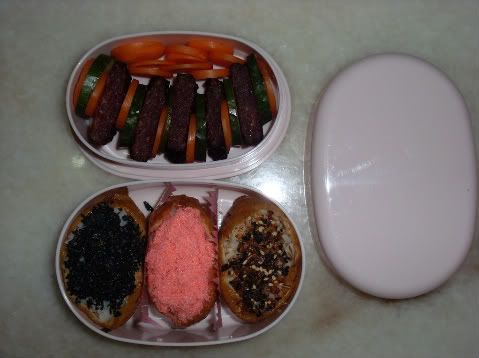 It's 3 inari with the same toppings. But loads of sliced carrots and zucchini. I am more a meat person but vegetables laid out in bento boxes seems more palatable than usual. So I took advantage of the visual gratification.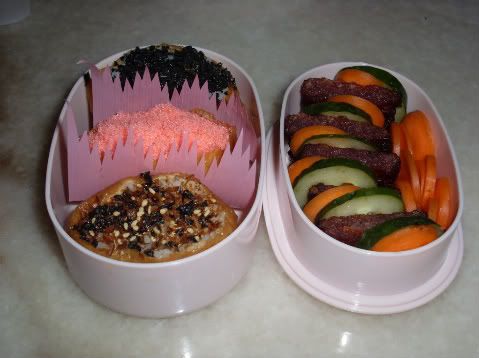 Will post today's bento if the kids go to bed early today.
Have a great weekend, all !
Labels: Bento

Wednesday, October 08, 2008
Smudgey Hello Kitty bento !
This is today's bento. Pardon my untidy handiwork.
Knowing that I may not make it in time for Kimberly's bento, I shouldn't have attempted this. But Kimberly has requested for a Hello Kitty face like Ashley's lunchbox. So I thought if I could have the nori face punched out and laid out the night before, I may just about keep in time. Unfortunately the nori pieces were not as neatly cut out as before. But I failed to observe that yesterday.
Anyhow, here's a smudgey faced kitty bento!
Bento #83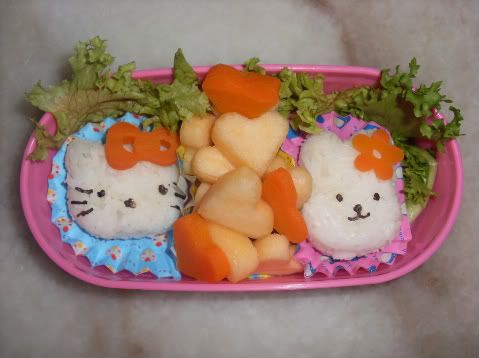 Kimberly is having pork chops for her school's lunch today. So may as well get her more carbo on her bento meal today. Kimberly has a Hello Kitty moulded rice and her bunny companion moulded rice, both with a carrot ribbon. Between the 2 moulded rice are some honeydew melon cut outs in heart shape, and some steamed carrot cut out in heart shapes.
Since this is a 2 tier bento box, I gave her some heart shaped cheese sandwich for laters, if she wants them.
The white bread are store bought and the inner whole meal bread are home made. Kimberly's classmate's mom, Sue, helped me got these multi size heart shape cutters from the Daiso in Singapore and I have been wanting to use them since forever!
They came in like 6 sizes and is more useful than my 3-size star shape cutter which smallest one is rather large. These one has a much more smaller cutter for the inner. I could cut the inner shape with the smallest cutter and not waste the inner cut outs.
Between the cheese sandwiches are steamed corn. This is one of Ashley's favourite. Since I packed this for Ashley today, Kimberly gets some too.
This here is Ashley's bento
Bento #84
Steamed corns !
Heart shaped cheese sandwiches !
With some grapes cos Ashley prefers grapes over honeydew.
Now to wait for Kimberly to get home cos both kids are going into office with me today for some late work since MIL couldn't come down this week to mind the kids and I have a 2 day continuous trial on Monday and Tuesday.
Happy bentou-ing, all !!
Labels: Bento

Bento #82
I have enjoyed sleeping in the last whole week, not needing to get up at 6 am to get Kimberly ready for school. Had a hard time lifting my eyelid open Monday morning.
It had been bliss, the last whole week. Doing nothing much but visiting, eating, taking the kids out and about. I was supposed to spend the whole of last week doing revision with Kimberly for her exam. But we ended up going visiting Muslim's friends over Hari Raya, going to Genting, making a trip to the zoo, and going for a boat ride at The Mines.
I dare not attempt a kawaii bento on a schoolday and on a working day in want of time. So for a lazy Monday morning, this is a simple toddler's bento.
Monday's bento
I was suprised to see the grocer down the road still selling fresh dates now that the Raya is almost over. I knew those skins were tougher than apple skins but I thought it makes a handy fruit to pack for hubby's bento anyhow.
With the sparse pantry and fridge, not having gone for grocery shopping the last whole week, I had to pack this for Ashley's bento. Good thing she usually just nibble around it and discard the skin.
At the back of the fresh red dates are some home bake buns with sesame toppings. I usually use the bread machine for the dough. These are soft only on the first day cos I dont use bread improver. But that's fine cos we normally finish the whole loaf in 2 days. For hubby and my breakfast, for the kids bento and for the kids' supper.
For protein, Ashley has baby shark fritters, one of her favourites. I have an easy mind packing this for her bento meal cos I know she is going to finish them.
Now to upload today's bento on flickrs. Ashley didn't go to school yesterday because she was having a bad bout of eczema. I thought I keep her at home so as not to aggravate any further bleeding cos she would scratch herself raw if I don't stop her (ie. if I don't scratch for her)
Sigh.. sometimes I spend a whole night just doing this and applying moisturiser on her so that she could sleep.
Anyhow, have a great day today, all ! Will see if I can post today's bento by today.
Labels: Bento

Saturday, October 04, 2008
Hello Kitty Bento
I should call this one time-on-my-hand bento instead of Hello Kitty bento cos the only thing Hello Kitty over there is the moulded rice. Ha Ha!
I have been meaning to utilise the Hello Kitty rice mould sets but in want of time, I usually skip the tool, cos those placing of nori eyes, whiskers and nose takes time. And as you may know, 15 minutes is about all I can spare for the kids bento meals on a normal weekday before getting them ready sending them off to school and getting myself ready for work.
So, without needing to get Kimberly ready for school on Monday and without having to go to work on Monday, I fixed a kawaii bento for Ashley. Ashley still goes to kindergarten during the Raya week although Kimberly has the whole week off school.
Bento #81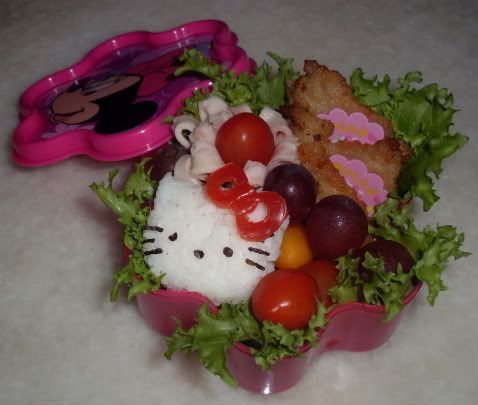 Ashley's Hello Kitty moulded rice has a red pepper ribbon on top of her head. It's more ornamental than anything else. I hardly think she is going to touch that.
On the top are some ginger marinated fried chicken strips. I love these ginger marinated ones. It's a favourite with the kids and hubby too.
I cut the chicken into thin strips, marinated in loads and loads of ginger mince and ginger juice and some soy sauce. Leaves overnight but I usually leave them frozen with cornflour coating. Whenever I need any, I took a few strips out and deep fry them in a wok.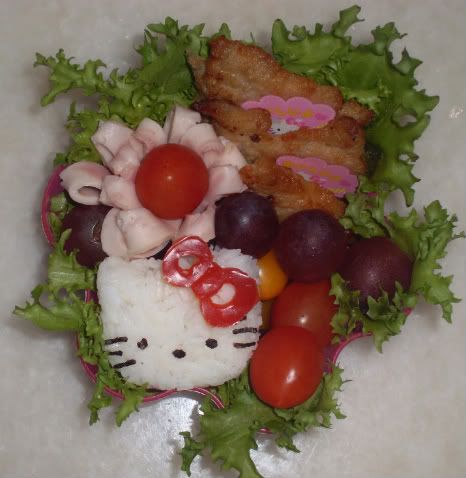 As usual, the bento meal sits on a bed of lettuce leaves if there's some in the fridge. It's because we do a lot of lettuces at home and there's always some in the fridge. My kids like to wrap their fried rice around lettuce leaves so MIL tend to buy these a lot.
I thought these coral leaves are so pretty and got these for a change. While Kimberly munches on hers, Ashley pulled a funny face and abandon hers. So will probably just get these for hubby's bento only in the future.
On top of the moulded rice is a ham flower. Been meaning to do this for months, ever since I spotted them on some cool Japanese mom's blogs. But not having bought ham for sometime, have been delaying them till now.
On the side of the Hello Kitty moulded rice are loads and loads of grapes, and 2 yellow cherry tomatoes and 2 red cherry tomatoes.
So, this is Ashley's Monday's bento meal.
Happy Bento-ing, folks, and drive safely travelling back to KL after the Raya holidays!!
Labels: Bento

---