"here" .For older bento posts, just click on the monthly archives at the side bar.
Friday, August 29, 2008
Bento #60 - toddler's bento
Since Kimberly appears to be happy with the canteen food nowadays, I only need to pack a bento meal for Ashley. This is Ashley's bento box for the day.
This bento is packed in compliance with my priority for speed. I had to spend a good part of the morning sourcing for Kimberly's project material. It's her Bahasa Malaysia project this time. Yesterday's was for her English project.
WednesdayBento #60
Ashley bento is simply star shaped cheese sandwich. I thought it's high time I put the different sizes star shape cutter to good use. Been meaning to do this forever but keep skipping them to make way for available space in the bento box to slot other allocated food.
In the divided container are slices of Japanese pear cut into star shapes. I seperate them with baran divider for her easier picking with her tiny fingers.
Slot them fruits into a silicon cup to keep them in place. It was a huge pear and those are from half a side of the pear.
Her teacher didn't open her bento box today because she likes the break time food of the day. They usually offer her the bento only if she rejects the break time food or their lunch time food.
So I offered her the bento meal on the ride home. The angel that she is, she usually finishes all her food on the drive home.
Perhaps, leaving a slice or two of a fruit or a cucumber.
So that's Wednesday's bento. Will try to catch up on the rest soon.
Have a great weekend, all !

Wednesday, August 27, 2008
Bento #58 and Bento #59
I had to spend a major portion of my limited wee hour in the morning sourcing for Kimberly's English project material instead of packing bento. So today's bento meal is a simple one.
I know I was suppose to source for Kimberly's project material earlier but I hadn't much time over last week. When I finally found some time over the weekend when we went to FIL, I realised that I have not brought my laptop along. Hence the eleventh hour rush again.
She tried to surf the link I gave her over the school holiday, but the pictures she came up with were really small pictures, which I felt wasn't what her teacher wanted.
Anyhow, this is Ashley's toddler bento meal of the day.
TuesdayBento # 58
Bento #58 is one teriyaki chicken drumstick cut up and skewered. It looks really little, yea? But it's one whole regular size drumstick,no less.
On the upper portion is two bunny shaped onigiri. I took them out from the freezer and steamed them in the microwave. I made them ready with the eyes and nose so it was a pretty speedy affair. Stuck a baran divider between the two onigiri so that they don't get stuck together.
On the side of the onigiri are some zucchini slices and 2 cherry tomatoes. I try not to pack carbohydrates as I know Ashley is more minded to eat biscuits, rice and noodles in school nowadays.
Bento #59
I think I won't be packing much bento box meals for Kimberly in the near future. She came home from school yesterday to tell me that the school's new canteen operator serve terific food.
She also told me she ate a major portion of her school's lunch that day.
Her school has been having some issues with their canteen operator of this year. Lots of kids are skipping their lunch and is buying other food from the counter instead.
I am pleased to hear from my little girl that she likes the food served by the present operator. I had started packing bento food for Kimberly because she seems to be eating the school's lunch less and less as the year go by. I spoke to one of her classmate's mom and she, too, told me that her son told her that he likes their food now.
Anyhow, back to bento.
This here below is not Kimberly's bento for Tuesday. I found this picture lying around my laptop and remembered that this was the bento box I packed for her last Wednesday when she went to the
baking class
at
The Cake Connection
.
She only ate a small portion of it before the class because she was so excited about checking out the store. But she finished it on the ride home cos she was famished.
Bento #59 is 4 boiled cheese weiners on the right. That's skewered steamed edamame and 2 cherry tomatoes in the middle. On the left, that's her usual peanut butter sandwich cut out in her current prefered cookie cutter.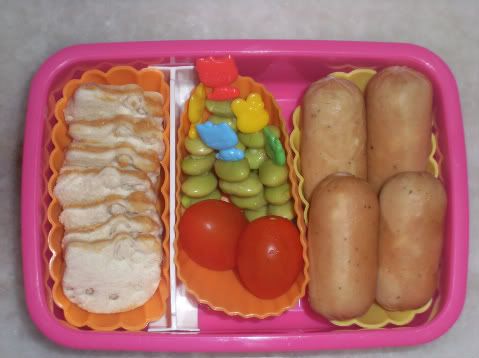 Will load up Ashley's Wednesday's bento soon.
Have a great week ahead, all !
Labels: Bento

Tuesday, August 26, 2008
She made better cupcakes than I do !
I send Kimberly to a baking class during the one week school holiday. Before Ashley was born, we have a once weekly baking session, where Kimberly would choose a recipe, and we would go about buying the ingredient and set aside one day to bake. Just the two of us.
After Ashley was born, there never seem to be any time for Kimberly. Ashley is always clinging to me. Even now.
Kimberly has been wanting to have a baking session forever.
I am not even a good baker to begin with, but I made do.
Sometimes I get sprinkles for her to decorate, and sometimes, she would pipe icing on cakes and cupcakes.
But in dire straits, this is how our cupcakes usually turn out to be.
Plain !
So, Kimberly went to a baking class at
The Cake Connection
at Jaya One, PJ during the school holiday.
This is not a substitute for mother and daughter bonding time, but it will tide things over till we have some time for baking together.
I came to know about The Cake Connection from
Nancy
. Kimberly is always asking to check out Nancy's blog for the cupcakes. She calls it "the chieh chieh's blog with the flowers and butterflies".
Good thing she hasn't discovered
Alice's blog
yet. Else between both these blogs, she would be hogging the laptop whole night long !
Anyhow, when I took Kimberly to the baking class, she positively love everything in the store. The sprinkles, the ready made fondant figurines and petals, and everything sugar and pink and nice !
Kimberly came out from the baking class with 6 cupcakes.
There's 4 left now cos one went into her tummy and the other went into Ashley's tummy.
She made better cupcakes than I do. ha! ha !
These are the kids hard at work.
The photos are courtesy of Nancy and Shymala of The Cake Connection.
Under watchful eyes.
High Five !!!
The proud little bakers !
This is her sitting around waiting for me to pick her up.
While waiting , she helped herself to a cupcake.
Thumbs up for the baking class, Kimberly says.
Seeing her hair like that always makes me resist the tempation to reach out and tuck her hair behind her ears. If she is in front of her peers, inevitably, she would go, "MOMMA !!!" ever so loudly !
Anyhow, Kimberly ask to go for baking classes again if there is another one coming up over the next school holiday. She keep telling me, "Mom, I will teach you how to make cupcake!"
If she is going to be baking better cupcakes than I do, I would be more than eager to drive her around for her baking classes, haha.
Labels: Kimberly

Monday, August 25, 2008
Bento # 56 and Bento # 57
It has been wonderful being able to lie in bed till 8 am or 10 am everyday for the last few days !! It was school holidays last week! And I need not have to wake up at 6 am everyday to pack a bento meal for my picky eaters.
Now that the one week break is over, it's back to bento-ing again !!
This here are both kids' bento for today.
MondayBento # 56
Bento #56 is turkey slices with cherry tomatoes and grapes sitting on a bed of lettuce. Both are topped with fish shaped steamed carrots.
I love my new itsy bitsy cookie cutter.
Yozoranitesky
has so kindly gotten me this stash. She says it's for the kids and refused to let me pay her back.
I have been wanting to scatter carrot/vege cut-outs on top of the kids bento meals since forever, but haven't any cookie cutters small enough for the carrots. Yozora and I have been talking about visiting that bakery supplier store in Kepong that has itsy bitsy cutters.
I was overjoyed when Yozora gave me these 2 weeks back !!! She had gone to Singapore for a short trip a few weeks back and had popped into Daiso for a quick grab!
I had told her that she only need to get them if it wasn't imposing on her, but the sweet soul that she is, she had made time to drop by despite her busy schedule.
I had wanted to use them earlier but I hadn't time till now.
Don't they look pretty? Those little fishies swimming around on top? ha ha.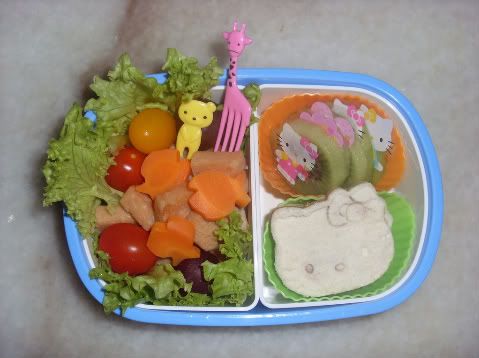 In Kimberly's blue bento box, there's peanut butter sandwiches. She just won't have butter sandwiches, egg sandwhiches or any others.It has to be peanut butter sandwiches. For now, anyhow.
On top of the sandwiches is one kiwi,sliced up and divide with baran for her easier picking. She just loves kiwi. I couldn't find any of the yellow ones here though.
Rachel's mom
and
LZmommy
had commented that those are sweeter and doesn't sting the tongue so much. I would love to get some if I can find some here.
Ashley's bento is just plain bread cut out. Instead of kiwi, which she doesn't fancy, I gave her a tube of cheese stick instead.
Bento #57
Last but not least, MY BENTO ! ha ha ! Which consist of leftovers.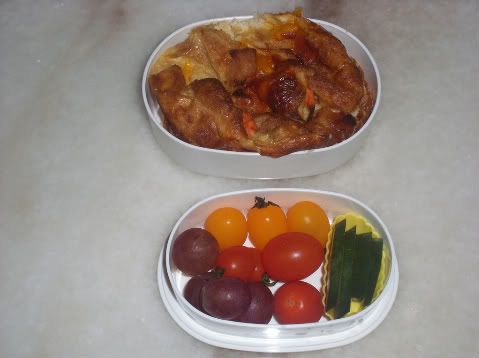 It's bread pudding with leftovers from cut out carrots, leftovers from the middle portion of the cheese stick, leftovers from cut out bread, leftovers from the outer layer of the turkey slice, which I normally dont give kids.
I scoop them all into a ramekin bowl, beat up an egg and add some milk, pour over them, didn't wait for it to soak out, but just placed them in the oven outright !
I timed it for 25 minutes while I go get Ashley ready for school.
Packed them into this bento box with my new bento strap!
And that's the bento for today, folks !
Happy Bento-ing !
Labels: Bento

Tuesday, August 19, 2008
Ashley's Toddler's Bento #55
Friday
Toddler's Bento# 55
Ashley's bento for friday is simply one Kiwi fruit sliced up and peeled. I had stashed up some mince meat with mushroom and carrot wrapped in tofu skin, so I cut one in 3 parts for her and push those leaves foodpick through each one so it looks like a flower.
Sandra
got her sister to send her those bento stuff from the Daiso in the states and ask if any of us want to
tumpang
. Of course we do. ha ha. Thanks Sandra, been wanting those tulip and balloon foodpicks forever !!!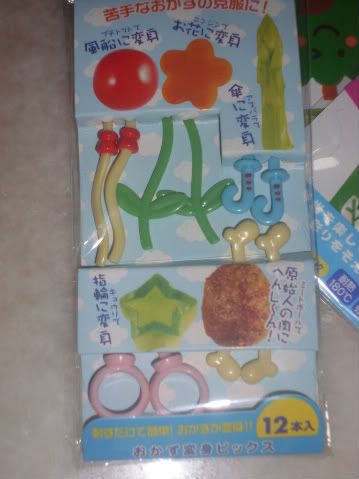 And just take a look at those
kawaii
musical notes cutter and those tiny little ones ! Perfect for itsy bitsy eyes and arms and stuff. All my cutters are cookie cutters that are way too big to do much with. I was so thrilled when I received the parcel.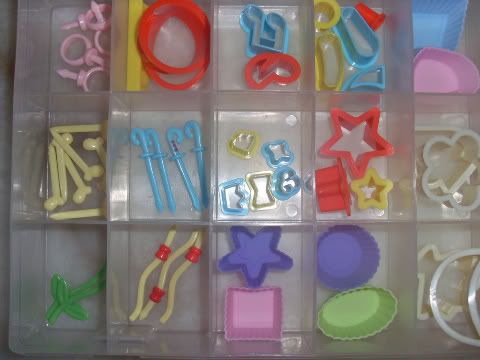 Anyhow, back to the bento. That's some toast cut into tiny star shapes at the back of the mince meat over there.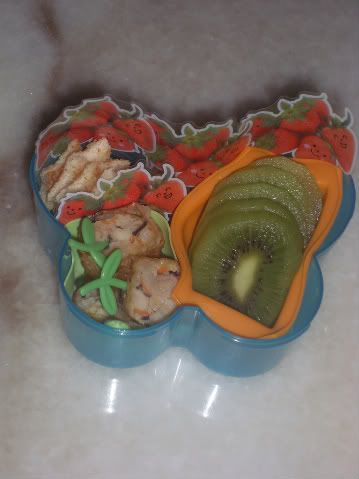 I think her teacher forgot to unpack her bento that day, or perhaps she was eating the school's food. Anyhow, I opened it up for her to eat on the ride home. She ate all the 3 pieces of tofu wrapped mince meat, the star shaped toast (soft by now) and ate only one slice of the kiwi.
However, Kimberly finished it up for her when she saw me placing it in the living room for Ashley to finish it up when we got home. Kimberly could eat 3 whole kiwi fruits in a day if I don't stop her. Her tongue gets stung if she ate too much kiwi.
Kimberly has a food fair in school Friday. She went to school with a bottle of water and RM20 for buying food she would fancy at those food stalls. She came home telling me 3 times that she had a terrific time. She also came home with a cookie for her little sister. I thought that was so sweet of her to have thought of her sister. Good thing she only spend RM5. I have been worried about her being spendthrift.
So that's catching up on last week's bento posts.
Have a great week ahead , all !
Labels: Bento

Saturday, August 16, 2008
Kids' Bento #53 and Bento #54
Wednesday
Bento #53
This is not exactly a bento.
It's a treat that Kimberly ask for her breaktime because one of her classmates likes it the last time, and Kimberly promise to bring it the next day for sharing.
It's biscuit fingers, divided into 2 zip lock mini bags. Two mini jar of chocolate spread (I use Dove's brand) and some sprinkles for coating the chocolate coated biscuit sticks with. Those sprinkles are what I usually use for cupcakes but I also let the kids dip their chocolate coated biscuit sticks with these at home sometimes for a treat.
On the upper tier of the bento box is one cut out slice of pear and 4 cut out slices of apples. Why so farnee, wan? I can hear you asking. Ha! ha !
Kimberly woke early and got herself ready earlier than usual so she was with me in the kitchen. She ate those cut out pears as fast as I could cut them. I have ran out of pears by then and had to use an apple instead. So that's why there's only one cut out slice of pear and 4 slices of apples.
As expected, the bento box came back messy with sticky sprinkles all over. Fortunately, with that foresight, I had placed the bento box inside this lunch bag.
Good thing too, that the spilled sprinkles were contained in the bento box and did not even mess up the lunchbag.
I find this lunchbag really useful. It's waterproof with a velcro opening, and it could contained droplets from frozen bottled homemade juice really well. I sometimes pack some in these for long drives out to FIL's place.
Bento # 54 - Thursday's bento
Both kids have the same bento meals.
Bento #54 is rolled ham slices, cheese cubes, cube zucchini and yellow cherry tomatoes secured with foodpicks. I figure they both haven't had ham slices for about close to a month already so I packed that for the day.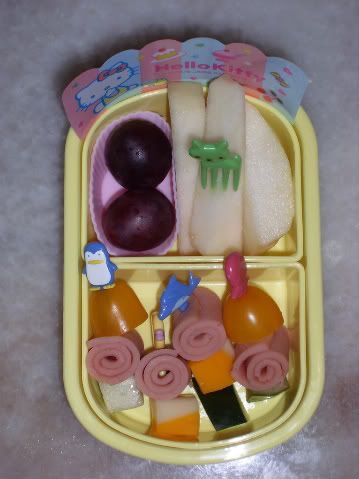 For Ashley, I added 2 grapes at the side and for Kimberly, I added 2 cherry tomatoes. At the side is half a Japanese pear cut into sticks.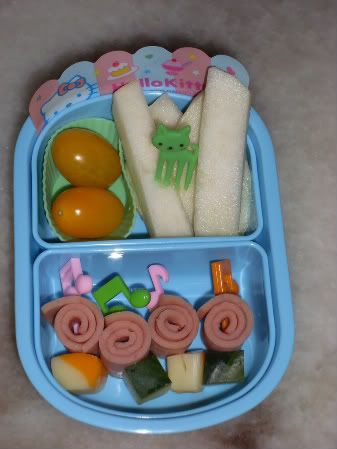 For some reason, Ashley prefer Japanese pears over normal pears. Perhaps its because Japanese pears brings out more juice than normal pears.
That's catching up on some of this week's bento posts.
Have a gurreat weekend, all !!
Labels: Bento

Thursday, August 14, 2008
Bento # 51 and Bento #52
Ashley's toddler bento on Friday is flat "
Fatt Kou
" (steamed cake) and fried mince meat balls. Fried a batch of mince meatball and onion over the weekend to stash up for fast meals. Since she usually like these, I thought I can include these into her bento box meal plan.
Friday's Bento
-
Bento #51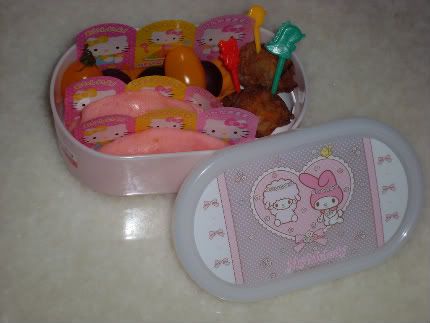 I cut the round flat "Fatt Kou" into half to fit into the bento box. Added some tomatoes and grapes at the side. She likes the red cherry tomatoes better but save for balking at the colour the first initial few times, she has not objected to it since, and I thought I packed that instead of the usual red ones.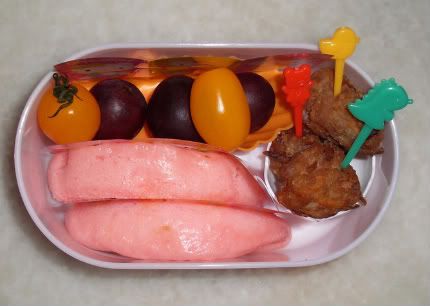 Kimberly is having chipolata sausage, scrambled eggs and milo for her school's breaktime today, food which I know she will eat, so she won't be needing a bento. Friday is half day, so the school offers meals at breaktime instead of lunchtime.
Monday
Ashley woke up early on Monday. I fixed her this for breakfast in front of t.v. while I clean up the kitchen and get myself ready to send her to kindy.
It was originally meant for her bento meal, has she woken up late..... a banana, a kiwi, toast with peanut butter and plain butter. I added some yellow cherry tomatoes and grapes for her.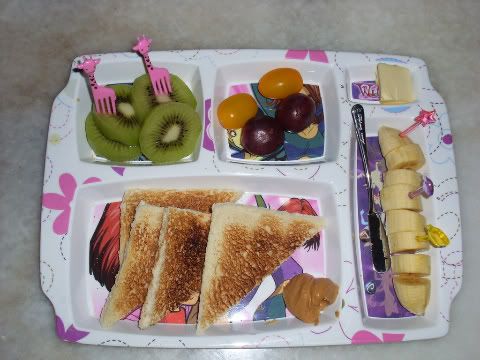 She couldn't finish everything in time for the drive out, so I scoop the balance into a compartmentalised bento box so she could have it in the car.
I found the old bento box (now 6 years old?) together with other baby spoons and stuff that I had packed away when Kimberly outgrew toddlerhood. I somehow missed out on this box when I unpack baby stuff boxes for Ashley. Also discover a lot of neat little Hello Kitty and My Melody bento boxes that used to belong to Kimberly.
The Pooh Bear compartmentalised bento box is huge, but fortunately it fit snugly on top of the Hello Kitty car tray. Didn't take a picture of that.
Her teachers says that she is showing encouraging signs of eating the school's meals together with her classmates. Since she had her breakfast for once before she goes to kindy, I figure she can do without a bento for the day.
For once, I am sending her to school with an easy mind instead of troubled mind. She usually rejects any food within the hour that she woke up. I do wish she would take to having her breakfast at home in the morning before she goes to school in the future from now on. That would take a load of worries off me.
Didn't fix a bento for Kimberly because her mealplan indicated she would be having fussili olio with baked fish, and pasta is definitely something she would eat.
Tuesday's Bento - Bento #52
Tuesday's Bento is Kimberly's. It's teriyaki chicken.
Kimberly would be having Chicken Maryland in school for lunch on that Tuesday. I have tasted the school's Chicken Maryland once. I had dropped by the school's bookshop and they happened to have that for the day, so I took a taste off Kimberly's tray to see if she would have liked it.
Truth be known, it is rather bland to the taste. I didn't taste any seasoning of any kind, or any flavour. Perhaps it is for the kids' best interest to have less salty food, but I think food that bland is bound to turn the kids off.
So, I had cooked some teriyaki chikcen for her bento for Tuesday. But doh doh me, having woke up late, I didn't have time to cut it into bite pieces and skewer it with zucchini for her. Nor did I have time to wrap a foil around the drumstick for her ease.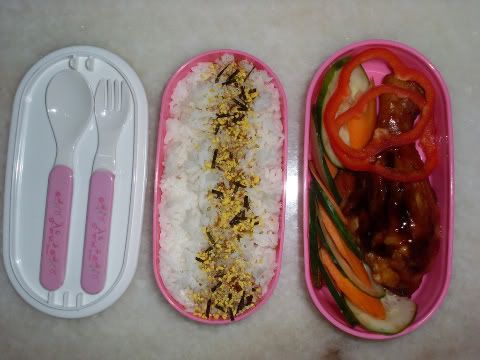 Ashley woke up early as well and was clinging to me, so no time and no free hands to mould the rice either. so packed the bento like an adult bento.
Was chiding myself the whole time I was packing the meal, with one hand holding Ashley on the sling, for not cooking and moulding the rice the night before. I normally stash up frozen onigiri but I had ran out that day.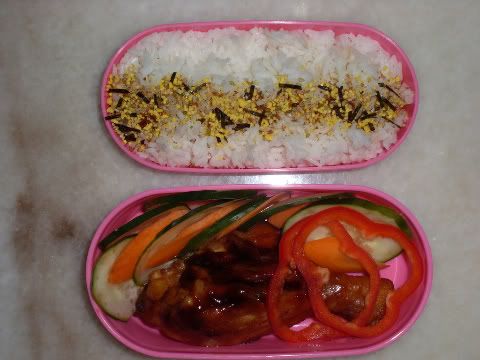 The bento meal was not very well received at all. She ignored the rice totally. It was too much rice anyhow, but having no time, I compressed it to fill the gap so that it won't jiggle around. Kimberly only ate the drumstick and the slices of cucumber, ignoring the red pepper, as I had expected.
Fortunately I had topped up some cash in her smart card so she could buy some other food with it. I had got to wake up earlier next time.
Since Ashley woke up early, she ate her breakfast in the kitchen.
I had stashed up some frozen glass noodles cooked with mushroom sauce for fast tea time meals. So I took out two balls, de-frost and heat it up in the microwave for Ashley's breakfast.
Ashley started eating it before I had time to top it with slices of carrots or zucchini.
So, didn't prepare a bento for Ashley. For those who doesn't know yet, Ashley was a breastfed baby and has rejected the bottle and the formula milk since like forever. She won't eat anything within the first hour she woke up either, so she had always gone to kindy with an empty tummy, necesitating the packed bento meals.
It looks encouraging, her waking up early,having breakfasts and going to school with a full tummy instead of an empty tummy. I hope this will turn into a routine.
When Ashley finally condescend to un-cling her arms from around me and sat down on her high chair to eat her glass noodles, I quickly snap pictures of Kimberly's "adult" bento and the glass noodles.
Will catch up on the rest of the bento posts soon.
Have a great week ahead, all !
Labels: Bento

Monday, August 11, 2008
Toddler's Bento # 50
Bento #50
is Ashley's bento.
Ashley's bento is steamed corn and leftover pizza. A girlfriend came over to stay last week for the night as hubby was outstation. Being too lazy to cook and being too lazy to eat out, we ordered pizza instead. I froze some leftovers to stash for future fast meals, so I thought Ashley could have a pizza today for her bento instead.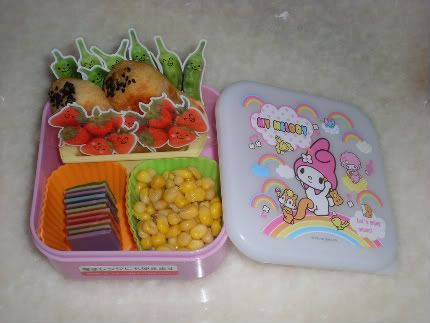 I steamed the corn yesterday night, thinking to speed things up in the morning. But the colour doesn't look so good this morning. Next time I will just have to deshucked them at night and steam them in the morning instead.
For dessert, I gave Ashley a layered rainbow coloured
agar-agar
. The kids prefer
agar-agar
to jelly.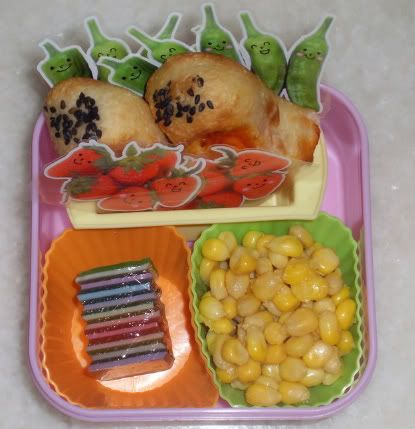 According to Kimberly's school's meal plan for this week, she will be having macaroni and cheese in school. I figure she won't be needing a bento today. I gave her some pretzel for breaktime instead. Since breaktime is at 9.20 am and lunch is at 12.20, I didn't want to stuff her tummy too full, else she will be discarding an almost full tray at the tray counter.
Hubby didn't want a bento today. I think he is rather tired of eating in. ha ha.
So that's the bento for Thursday. Will try to catch up on last week's bento soonest possible.
Have a great week ahead, all !!
Labels: Bento

Sunday, August 10, 2008
Bento #48 - Toddler's bento , Bento #49 - Fried rice bento
Bento #48
This is Ashley's bento of Wednesday.
Ashley's bento is simply steamed carrots layered with cheese, both cut into Hello Kitty shape. This is her favourite shape. Mainly because it is her
chieh chieh
's favourite shape. haha.
Cut some bread and butter sandwich into Hello Kitty shapes and Chip and Dale shapes.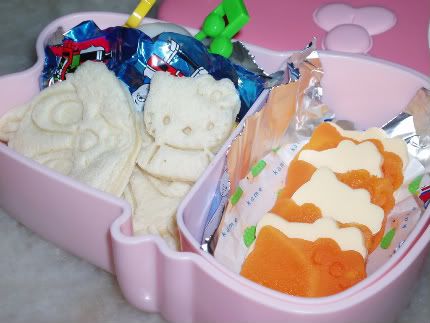 There is some grapes in the foil, but my battery ran out and I didn't get to take a picture of its content.
Kimberly doesn't need a bento today. I normally pack her a bento if I think she won't be eating most of her lunch.
Since her school's meal plan for lunch today is steamed rice with broccoli, carrot, omelette and fish, all of which are food she would eat in my absence, I gather she could do without a bento today. Pack her some cereal for break instead.
Bento #49
- Fried rice bento
Bento #49 is fried rice. Fried some leftover rice with leftover
lup cheong
and
siew yuk
in the morning. There is soy sauce in that tiny carrot container at the side.
Fried an egg to go with it. Packed into the bento with lettuce, tomatoes and cucumber. And some raw carrot for crunch, because I didn't have enough steam carrots leftovers from Ashley's bento.
Hubby took one look at the bento and said, "This where got enough for lunch?" "I'll have it for breakfast"
Hokay.....only bigger bento meals will do for lunch. ha ha !
Anyhow, packed similar bento for myself. Mine is for lunch though.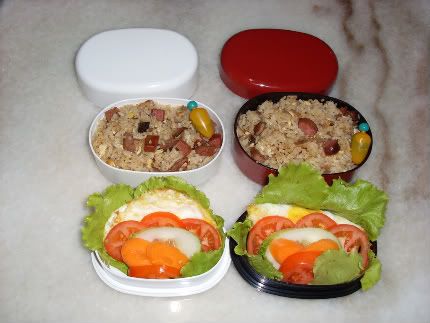 Packed them into these bento boxes. Got them at RM4.90 each at 100yen store. Isn't that a good deal?
My staff likes those bento boxes so much they asked me to get them two each, but when I went back for it, they were all sold out. There were only those tiny Pooh Bear ones left.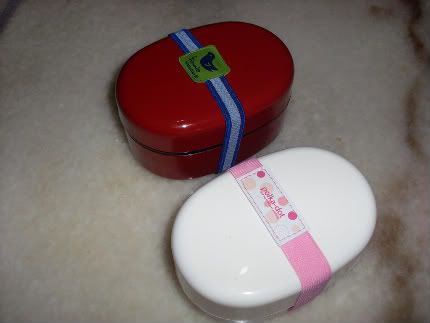 By the way, the winner for
Bento Pet
's contest has been announced. Nope, I didn't win, but it was fun. Although I feel almost apologetic, because a lot of blogger friends text me every now and then to tell me, "Hey, you are no. 4 !" "Hey, you are no. 2 now !" . I think some of them are more excited than I am.
Earnestly, it doesn't matter who wins. Cos all the contestants were great !! I am even amazed that I can come up to No. 2, particularly since my votes were a gradual climb and not leaps !! And particularly since all the contestants were just so amazing!
It was really fun and exciting too, especially when blogger friends phone me or text me every now and then to tell me the votes. It's like running for election, ha ha !!
From this, I am overwhelmed that my effort to post bento posts are really appreciated, and I am grateful that I have blog readers who actually vote for me !!
Thanks guys, lurve you all !!
Thanks, Bento Pet, for affording this opportunity for us, and also to let us know the links of all the other contestants and fabulous bento packers out there !!!
Labels: Bento

Thursday, August 07, 2008
Bento #47 - Hubby's Bento
This is hubby's Tueday's bento.
Kimberly had severe nosebleed throughout the night before Tuesday. I thought it is prudent to keep her at home. It proved to be the right move, because she get nose bleed twice throughout the day itself. She got tons of homework the next day, though, from her absence on Tuesday.
We took her to ENT before, and the ENT doctor says Kimberly need to undergo a simple surgery to divert the blood from the broken blood vessel to another vessel. But we thought she was too young. So we just keep her from rubbing her nose too hard till she is old enough.
Anyhow, Ashley, seeing her chieh chieh at home, didn't want to go to school either. So both kids stayed at home. So no bento for the kids nor for myself.
Only hubby's bento.
Bento #47
Hubby's bento is leftover tofu from yesterday night's dinner, with fried onion with oyster sauce on top.
On the left container is a piece of unagi cut into 3 equal slices. That's the protein taken care of. I added 3 yellow cherry tomatoes and some slices of red pepper for vege.
For carbo and additional protein, hubby had tofu pouch stuffed with calrose rice. I wasn't sure if the tofu pouch were to face up or down. I see most kawaii Japanese sites having it face up, with seaweed face punched out with nori puncher. But I also see traditional Japanese food site having them face down.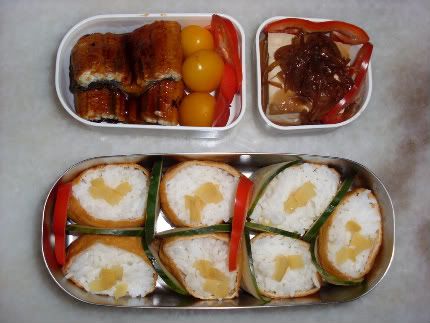 Unsure, I tried them face up.
Hoping for some feedback from veteran Japanese food cooks like
LZmommy
,
Blessed Mum of 3
or
Bento Pet
!!!
I added some daikon topping on rice stuffed tofu pouch and divide each individual tofu pouch with slices of cucumber and red pepper.
Packed them into this 2 tier bento box.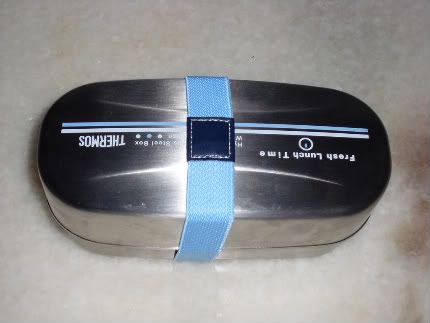 Hubby had a rushed schedule today and was grateful to be able to grab a quick bite in his office instead of having to go out for lunch with his business associates or usual lunch partners.
Will post Wednesday and Thursday's bento soon !
Happy bento-ing , folks !!
Labels: Bento

---